Johnston Sans: TfL toasts 100 years of signage during Clerkenwell Design Week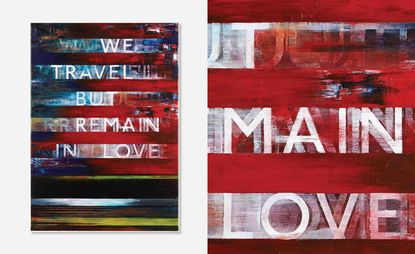 (Image credit: Press)
The reassuringly familiar typeface used across London's transport network turns 100 this year, making it one of the world's longest lasting examples of corporate branding. Commissioned by the Underground Group's commercial manager, Frank Pick, in 1913, designed by calligrapher Edward Johnston and introduced in 1916, the sans serif design brought clarity and uniformity to London's complex network of stations, which had previously each used a jumble of signage and typography.

To mark its centenary, Transport for London (TfL) has teamed up with 11 UK graphic and design agencies, who have each created a poster dedicated to the typeface. Among them, legendary typographer, designer and letterpress master Alan Kitching has used the tube line colours from Harry Beck's 1933 Underground map to create a multicoloured drop shadow behind the Johnston font; award-winning agency Magpie has conjured a playful ode to Johnston's legacy with a simple and direct message – 'Politley telling Londoners where to get off since 1916'; while Thomas.Matthews has layered the underground's distinctive seat fabric pattern (also designed by Johnston) into a rich composition that 'aims to communicate the hustle bustle of London and the constant presence of Johnston in our everyday journeys'.

Other participants include Build, Monotype, Pentagram, Sawdust, SEA, Studio Frith, Studio Parallel and The Beautiful Meme, whose posters will be on show and for sale at TfL's Johnston Pop-Up Shop in the 'Additions' exhibition at Clerkenwell Design Week from 24–26 May and at an exhibition entitled 'The Language of London', to be held at Hoxton's KK Outlet concurrent with Clerkenwell Design Week, from 16–28 May.

'The Language of London' is not a stand-alone event; it is in fact part of a much wider 18-month programme of events, exhibitions and competitions titled 'Transported by Design', which was specifically set up to showcase the link between transport and good design and how it has kept London working and growing into the 21st century.
INFORMATION
The 'Johnston 100' posters will also be on show on the Underground during June. The poster designs will be available to buy online from 16 May via TfL's website (opens in new tab)