Istituto Marangoni's new Design School in Milan opens its doors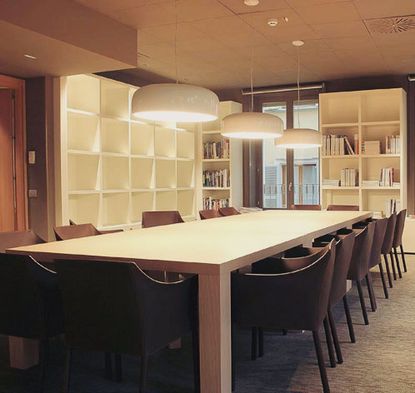 (Image credit: TBC)
Milan's most prestigious fashion school, Istituto Marangoni, has just unbuttoned its first fully dedicated design school in the centre of the city. Tucked just behind Piazza San Babila on a cobblestone street, the new School of Design sits not on a sprawling campus but rather inside a narrow, stately 19th century palazzo filled top-to-bottom with modern, eye-popping Cappellini furniture.

'The idea was to create a sort of homeschool,' explains architect Giulio Cappellini, whose post as artistic director of the venerable Italian design company now extends to the new school. 'It has a boutique feeling,' he adds. 'Students might spend 10 hours here in one day, so it had to be cozy and warm.'

At just 2,500 sqm total, the campus' limited dimensions created a design opportunity for Cappellini, who swept the refurbished interiors in a clean shell of glass walls, and then punctured the neutral spaces with bright spots of coloured furniture. Icons of Cappellini's long-standing design repertoire are well represented on each of the five floors, including Marcel Wanders' 'Dalia' chairs and Shiro Kuramata's glowing red 'Revolving' bookshelf on the ground floor entryway, Jasper Morrison's 'Low Pad' chairs in the lounge area and colourful 'Stitch' chairs in the materials room.

Each classroom is fitted with newly designed laminate top steel leg tables with special cord covers, and paired with Jasper Morrison's 'Tate' chairs in blue or yellow, originally designed for the Tate Modern in London. His 'Morrison' stools are also represented in the lab rooms, paired with custom-made drafting tables. A café, terrace, and library are also all fitted with Cappellini designs.

'Marangoni is already very well known for and tied to fashion, so we wanted to make a statement on the design and the interiors for this new institution,' says Cappellini.

Founded in 1935 in Milan, Marangoni now operates fashion schools in three other cities around the world: London, Paris, Shanghai. The new Design School in Milan features intimate classes limited to 10-15 students each and offers three-year undergraduate degrees as well as a two-year masters program.