'Important Nordic Design' auction, London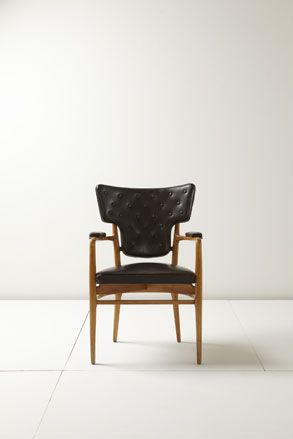 (Image credit: designed by Erik Gunnar Asplund)
The design world's love for all things Scandinavian seems to be deepening on a daily basis. Not only have this year's Helsinki, Copenhagen, Stockholm and Oslo design weeks (and weekends) attracted more attention than a tall blonde at a Chinese streetmarket, but back in April, even Jasper Morrison was driven to proclaim 'Danish Design: I like it'. This year also marked the 60th anniversaries of Marimekko (opens in new tab), the first Ikea (opens in new tab) catalogue, and even the very idea of Scandinavian design, which London department store Heals claims to have first brought to the world's attention in 1951 with its exhibition Scandinavian Design for Living.
Now, to see the year out and top the lot (no pun intended), auction house Phillips de Pury & Company (opens in new tab) is staging a new look at Scandinavian design. Entitled 'Important Nordic Design' (opens in new tab), this is an academic exploration into 20th century and contemporary design and culture, and with around 120 rare and exceptional works from Sweden, Denmark and Finland up for sale, it is estimated to generate between £2,000,000 and £2,800,000.
Curated by architect Lee F. Mindel (Fellow of the American Institute of Architects (opens in new tab) and whose firm Shelton, Mindel & Associates (opens in new tab) is the winner of the 2011 Smithsonian Cooper Hewitt National Design Award for Interior Design) Important Nordic Design is a showcase of what has clearly been a lifelong passion and a profound understanding of the contributions of architecture and design in Scandinavia, where he has travelled extensively. Photographs documenting his Nordic journeys are also available for sale during the exhibition, and the proceeds will be donated to various architectural and design institutions.
So why now? Alexander Payne, Worldwide Director of Design at Phillips de Pury & Company, explains he is himself passionate about the Scandinavia's output over the last century: 'It is the genesis of so much design and architecture today, we wanted to give our audience an insight into this fascinating region.' Furthermore, he says, we have a newfound affinity to the quality, finesse and attention to detail inherent in Scandinavian pieces. 'They have a tradition of cabinet making that goes back to the 17th century. The pieces have a knowledge of materials and history of craftsmanship that is unparalleled. Here the maker is celebrated as much as the designer.'
Highlights include the 'Asplund Chair', designed in 1930 by Erik Gunnar Asplund (the architect behind Stockholm's Stadsbibliotek, the main city library), works by Vilhelm Lauritzen and iconic lighting designer Poul Henningson, whose rare spiral ceiling lights and a wall light for the Scala Concert Hall will be on offer. Alvar Aalto's iconic 'Paimio Armchair' is estimated to fetch between £38,000 and £42,000.
By taking a highly curated approach to auction, Phillips de Pury hopes to provide a platform for education and understanding. 'We tend to think of Scandinavia as being a singular culture, but actually each country has a unique history,' he explains. 'It's been a wonderful journey exploring and documenting this. In the results, you can see how all the different ingredients work together.'
The final dish is certainly a beautiful one. But is an overdose of Nordic design knowhow on the horizon? Unlikely. As Gregor Paulsson (then director of the Swedish Design Council) so clearly pointed out in 1919, Scandinavian design can be summed up in a single phrase: Vackrare Vardagsvara - 'More Beautiful Things for Everyday Use'. This is design you never tire of. So it'll be worth the investment then...
ADDRESS
Howick Place
London SW1P 1BB
VIEW GOOGLE MAPS (opens in new tab)