Homo Faber celebrates craftsmanship in Venice
Back for a second edition, Homo Faber Event (until 1 May 2022) spotlights the importance of collaboration and passing skills through generations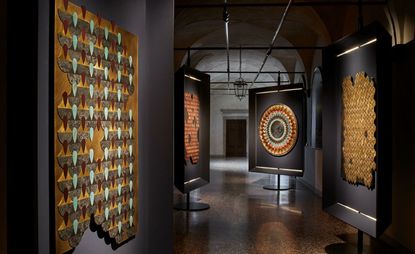 (Image credit: Alessandra Chemollo )
In a darkened gallery of Venice's Fondazione Giorgio Cini – home to the 2022 Homo Faber Event, an exhibition of contemporary craftsmanship, running until 1 May 2022 – a series of mosaic panels dazzle as they catch the light, their colourful surface patinas creating a kaleidoscope effect. Made from copper, brass and steel, and treated with some 50 different oxidation and brushwork techniques, these ornamental panels are a tribute to the 12th-century mosaic floors of the city's Basilica di San Marco – a contemporary reimagining of centuries-old craftsmanship from the region.
Tracing Venice, as this installation is called, took months of intense research and collaboration between Veneto-based design studio Zanellato/Bortotto and the metalwork experts at De Castelli to mimic the erosion of the original mosaics, caused by flooding. 'We wanted to reflect the fragility of the city,' says Daniele Bortotto. After its showing at the Homo Faber Event – under this year's event theme of 'Living Treasures of Europe and Japan' – the installation will travel to De Castelli's Milanese showroom for the Salone del Mobile 2022, then the collaborators hope to sell the works to raise money for restoring the cathedral's floors.
Homo Faber: pushing the possibilities of craft
Such feats of teamwork and artisanship, rooted in regional traditions, abound at the second edition of the Homo Faber Event, launched in 2018 by the Geneva-based Michelangelo Foundation for Creativity and Craftsmanship. Everywhere you turn in this epic showcase – spanning 15 exhibitions and over 850 objects – you hear talk of the thousands of hours of labour required to make the works (a lace-like wood carving by Belgian sculptor Julien Feller took 3,500 hrs, and counting, according to an exhibition guide). This is a showcase of craftsmanship on steroids.
The foundation has tapped 12 curators to mastermind the exhibitions: German designer Sebastian Herkner, British design author Tapiwa Matsinde, and American experimental theatre director Robert Wilson (a 2010 Wallpaper* Guest Editor), among them. Many have pushed the artisans out of their comfort zones in order to reframe traditional skills for contemporary life.
Herkner, for example, invited makers from Europe to reimagine the mosaics outside the nearby Basilica de San Giorgio as designs for use in interiors. José Vieira – one of Portugal's last tinsmiths, who typically makes domestic objects such as jugs – has created a metal mosaic panel with an undulating pattern inspired by water. Meanwhile, Belgium's oldest stained-glass studio, Atelier Mestdagh, has swapped the leading normally used to fuse together pains of glass with copper, which gives its mosaic clean lines and a luxurious edge. 'I wanted to showcase how some of the most challenging techniques can be applied in contemporary ways,' says director Katrien Mestdagh.
In this sense, the Homo Faber Event shows artisans at the top of their game. This isn't a showcase of craft for the everyman, it's about pushing the possibilities of the discipline, spotlighting superlative skill and encouraging makers to consider how they can attract contemporary audiences. Judging by the crowds at the Fondazione Giorgio Cini on the opening day, it's working.
The programme spotlights the importance of collaboration and passing skills down the generations. A highlight is 'Mechanical Marvels', a show of hypnotic sculptures made by ECAL students in conjunction with masters in horology and automata in Switzerland. Each installation uses traditional know-how to new ends; for example, a mobile pays tribute to the ballerinas and automata in traditional music boxes. Its dancing glass rods dangle from a carbon frame, powered by an exposed mechanism that imbues their movements with a strangely human choreography. You can't help but be transfixed.
Craft as performance
To bring craft to life for visitors, the curators have treated making like a performance. You can see artisans act out their techniques in live demonstrations or watch films showing the deft hands of 12 of Japan's National Living Treasures (master makers bestowed their title by the country's government to safeguard intangible cultural heritage). Designer Naoto Fukasawa has mounted their kimonos, basketry and ceramics on sharp-angled plinths, to give them an edge.
Upping the theatrics further is an installation called 'Waiting with peace and darkness' by Robert Wilson. He has transformed a 1960s swimming pool into a black and white set for Japanese-inspired furniture and costumes made for his productions, with a soundscape to accompany them.
One important aspect that doesn't quite come to the fore is the role that artisans can play in the fight against climate change. While handmade objects remind us about care and value in today's throwaway culture, craft is not immune from ecological critique, with disciplines like glassmaking and ceramics being extremely energy-hungry. You can spot plenty of pieces made from natural or recycled materials – without the use of machines or furnaces – in the show, but it is hard to find examples of real ecological innovation, such as the use of biomaterials, which many makers are now pioneering.
Another missed opportunity is the chance to give the artist craftsperson a stronger voice – makers who are using their hand skills to critique society and call for change. In the 'Next of Europe' exhibition, curated by Jean Blanchaert and Stefano Boeri Interiors, you can discover powerful works in glass by British artist Chris Day and ceramic by Algerian artist Rachid Koraïchi, but their narratives about the legacy of slavery and the traumas of forced migration are lost as they vie for attention with more than 150 objects in the exhibition space. Such works give craft extra purpose in modern life.
Homo Faber's exhibitions champion skill over concept – this is chiefly a showcase of craft in a design context rather than a fine art one, perhaps a conscious decision to differentiate it from the Venice Biennale 2022 it coincides with. Whatever your views on this, the Michelangelo Foundation must be praised for its dedication to nurturing craft excellence and securing its future with this extraordinarily ambitious show.
INFORMATION
Homo Faber Event is on view until 1 May 2022
homofaber.com (opens in new tab)
ADDRESS
Fondazione Giorgio Cini
Isola di San Giorgio Maggiore
30133 Venezia VE
Italy
VIEW GOOGLE MAPS (opens in new tab)