'Hella Jongerius - Misfit', Rotterdam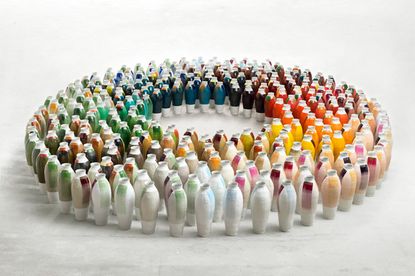 (Image credit: Gerrit Schreurs Fotografie)
'Coloured vases (Series 3)' by Hella Jongerius for Royal Tichelaar Makkum, 2010, on show at her 'Misfit' retrospective at Museum Boijmans Van Beuningen. Photograph by Gerrit Schreurs Fotografie
Hella Jongerius' furniture has often divided the design cognoscenti. But, whether you love the 'Frog' table or loathe it, there's no denying the artistry involved in its making.
Sculpted from French walnut wood with blue transparent enamel, the Frog table is one of a whole troop of eccentric creations by the Dutch designer on show at Rotterdam's Museum Boijmans Van Beuningen, including a series of 'Office Pets' and a 'Fox' mirror. Aptly named 'Misfit', the show encompasses Jongerius' entire oeuvre, but without chronology and giving no hierarchy to preparatory studies and finished products.
Jongerius began introducing individuality and imperfections into industrial manufacturing processes in the early 1990s, when she founded her own studio,
http://www.jongeriuslab.com/" target="_blank" >Jongeriuslab, in Rotterdam, and has long believed that the quality of craftsmanship is not visible in perfect products, but only in the 'misfits' that betray the hand of the maker. Whether a commercial product or a limited edition piece, there's a rebellious streak of fantasy that threads throughout her work, often with witty results.
Take her 'Office pets', a series of fabric characters - including a dragonfly, bird and a beetle - fashioned atop what looks like the swivelling base of an office chair. Created for Vitra and later Galerie Kreo, these pieces connect the rational corporate world with the narrative world of fairy tales to extraordinary effect.
And, with the infamous Frog table, the decorative amphibian functions as an intermediary between user and product - a guest at the table who can't be ignored. It's a brilliantly confrontational way of presenting the power of decoration in design.
Also on show at the Museum Boijmans Van Beuningen is Jongerius' new series of vases for Royal Tichelaar Makkum. Each vase is used by Jongerius as a canvas, on which to experiment with colour, using a mix of classic mineral glaze recipes and modern chemical ones. Colour is another vital element to her oeuvre, around which the exhibition is organised.
Most of the works in the exhibition are displayed on the wall, which deliberately strips them of their normal functional context. In the museum, the visitor is cast as an observer rather than a user, which places the focus on the hidden meaning behind each design.
ADDRESS
Museumpark 18
3015 CX Rotterdam
The Netherlands
Receive our daily digest of inspiration, escapism and design stories from around the world direct to your inbox
Malaika Byng is an editor, writer and consultant covering everything from architecture, design and ecology to art and craft. She was online editor for Wallpaper* magazine for three years and more recently editor of Crafts magazine, until she decided to go freelance in 2022. Based in London, she now writes for the Financial Times, Metropolis, Kinfolk and The Plant, among others.