Grand designs: Block9's gargantuan builds take Glastonbury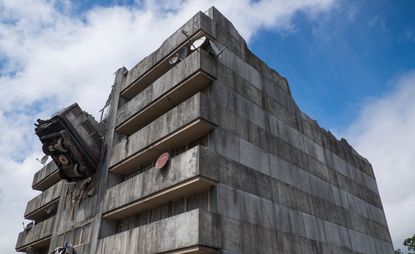 (Image credit: Henry Knock )
Of all the things you'd expect to find in a Somerset field, a six-storey London tower block (with a tube train protruding from the top) is most certainly not one of them. And yet, there it is. It's only the beginning of Glastonbury's Block9 (opens in new tab), the after hours party district of the UK's biggest musical festival and the brainchild of Stephen Gallagher and Gideon Berger.

A fusion of architecture, design and art, Block9 has three main – and very distinct – constituent installations: 'London Underground', an urban tribute to grime, reggae and dubstep; 'NYC Downlow', set within a post-apocalyptic, New York-style tenement (and arguably the most famous locale because of its cult status and drag queen performers); and 'Genosys', a brutalist, industrial tree-like stage that pumps out electronic and acid house tunes. There is also Maceos, a private bar for crew and friends, which also happens to host an artist-in-residence each year (as well as more DJ sets). The scale of it all is both impressive and ambitious.

Equally extraordinary are the elaborate fantasies behind each structure, each as detailed as the builds themselves. 'Everything we do has a back story,' explains Berger, 'so there is a history to what we are imagining is happening when we design a set or space.'

'It's like when an actor has to take on a character and they have to understand who that character is,' adds Gallagher. 'We do the same with our venues. We imagine this place and what happened there, what happened to the people that were there. Everything has a reason for being.'

Originally inspired by Burning Man, the sprawling festival held annually in Nevada's Black Rock Desert, the creative duo aimed to bring a comparable level of theatricality – that they refer to as 'hybrid experiences' – to the UK festival scene. 'You're not going to the cinema and consuming a film,' explains Berger. 'Not going to a concert and consuming pre-recorded music. Not walking into an art installation and being in a space. It's a hybrid of sound, light, sculpture; all of that rolled into one. We like to think that we design for the live music experience.'

They don't just 'do it'; they do it exceedingly well. It is at night that their designs jump to life; when the dancefloors fill with revellers and the lights, lasers and speakers truly come into their own. Next year will mark their 10th anniversary at Glastonbury. While their celebratory plans remain under wraps, we can wait, confident in the knowledge that whatever it is, it is sure to be immense.