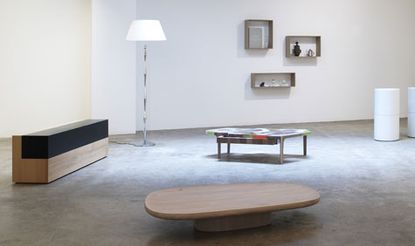 (Image credit: Press)
Since Galerie Kreo's arrival on the design scene in 1999, Clémence and Didier Krzentowski have, true to the Esperanto translation of the gallery's name, 'created' extensively. They have a remarkably fluid ethos when it comes to the designers with whom they work, accepting that planning, research and development take time and cost money. But these factors don't hinder them one bit in their quest to produce the finest limited edition designs.
Click here (opens in new tab) to see the new designs.
'We are a design laboratory in the true sense of the term', they explain. Admitting that, from sketch to presentation, most of their pieces take two and a half years, it's all the more impressive that their latest clutch of 16 designs, recently unveiled, have made it this far. But it's precisely this working relationship and devotion to the process, as much as the final product, which makes their work so intriguing, not to mention exquisitely finished.
Over the years they've built up a small but tightly edited pool of designers, both young and established, from Naoto Fukasawa to Wieki Somers, the Bouroullec brothers to François Azambourg. 'The designers with whom we work all have a certain way of expressing themselves and an uncompromising stance', they say. 'In addition they are all on a perpetual personal quest'. And taking in the 16 new works, they're quests that have clearly found their individual destinations.
ADDRESS
Galerie Kreo
31, rue Dauphine
75006 Paris