Traveling from Malta to England in Francis Sultana's interior design oeuvre
Interiors mastermind Francis Sultana celebrates the 10th anniversary of his eponymous studio with new tome, Francis Sultana: Design & Interiors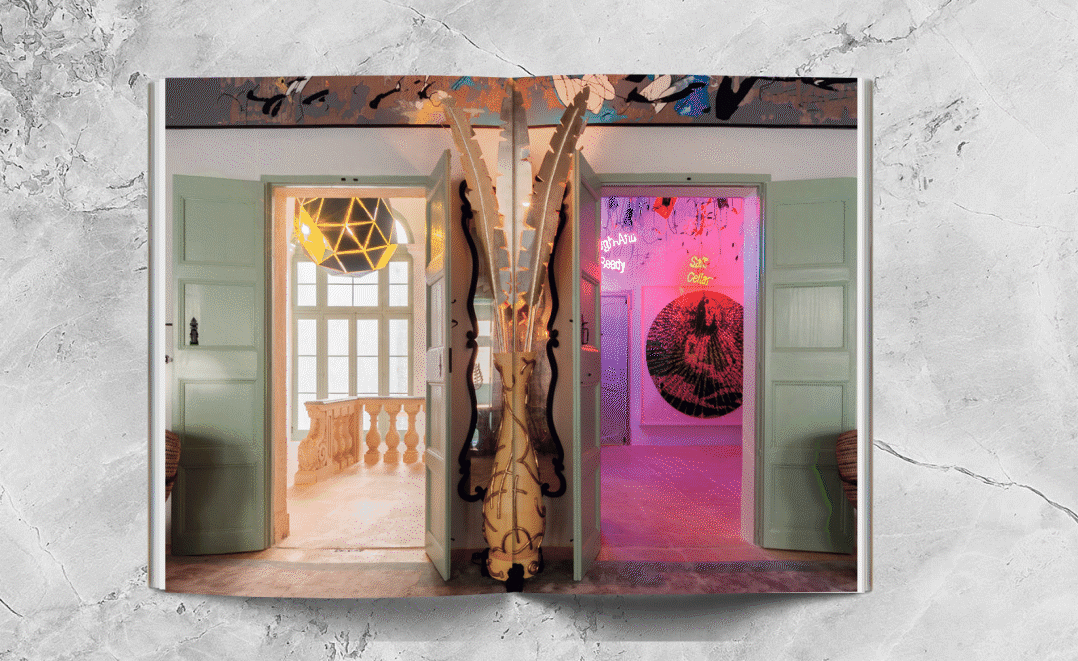 (Image credit: Simon Upton and JamesMcDonald)
Leafing through Francis Sultana: Design & Interiors, published by Vendome.
Marking the 10th anniversary of his eponymous studio, Francis Sultana: Design & Interiors reads as a highlights reel of the London-based Maltese designer's work to date. 'This book is a bit of my life. It's a very close up look,' says Sultana. 'I thought it would be interesting that people could see my homes and see my past, [what] I derive [from] where I've come from – the Maltese legacy – and see how that translates into my work.'

The projects, which focus in on Malta and London, are handed over for discussion to a group of writers and gallerists numbering among Sultana's closest friends – the book's editor is the former British Vogue features editor Bronwyn Cosgrave, and contributions come from British Vogue style editor Gianluca Longo and former Serpentine Galleries CEO Yana Peel.

Beginning with the renovation of his childhood home in Nadur, a village on the tiny Maltese island of Gozo, the book captures the unique cocktail of Maltese heritage and 'Englishness' that Sultana deploys in the homes he has created for himself and others. Among them is the Palazzo De Torres – a 16th-century palace encrusted in limestone decoration in Valletta – but central to the book is is a pair of residences Sultana has made with his partner the gallerist David Gill in the Albany complex in Piccadilly.
The 18th century mansion turned apartment building by Sir William Chambers has been home to eminent inhabitants from Lord Byron to Sir Robert Scruton of Building Better, Building Beautiful notoriety and the Conservative MP Jacob Rees-Mogg. Sultana and Gill made it their home in 2003, first overhauling a grand duplex and more recently moving into the quarters of the late Flair magazine editor, Fleur Cowles.
RELATED STORY
Their home is furnished with pieces that now form Sultana's 10th anniversary furniture collection, which he named Marie-François for his late mother. '[My] large collections are often named after my muses,' he explains. 'The problem was when this was my tenth year, and with the book coming out, I didn't want it to have primarily one woman's name in order not to upset any of my current muses!' The collection features a a desk, sofa, banquette, stool, and a pair of tables adorned with palm and lotus motifs, gilded woodwork, trompe l'oreil marble and fur tweed.
The opulent, yet clearly contemporary pieces are set against a Georgian backdrop of blue and green paintwork and below a carefully restored ornate ceiling – a combination of 'very serious English' with continental inspiration that has become Sultana's signature. 'Where I push my own personal boundaries is in my own personal space,' he says. 'If I look at the Albany home now with the blue salon, it is my favourite space because I've never really worked with such bright colour – but that's because of the inspiration of Robert Adams and the Georgian period – it pushed my boundaries.'
Reflecting on the first decade of his studio, Sultana says: 'I think I've matured really. The reality is that I feel I'm very settled and I have my confidence and my language. London's been a great platform for me. I feel very happy to be here, and I'm very encouraged to keep on building the studio from London and to work internationally as we're doing now.' Looking forward into the next decade, Sultana has plans to expand into the growing accessories market, set the scene for a play and write his next book – a behind the scenes look at the craftsmanship that goes into not only his pieces but the designers he supports.
INFORMATION
Francis Sultana: Design & Interiors, £50, published by Vendome