Fibonacci's lamp: Øivind Slaatto reveals the 'Patera' pendant for Louis Poulsen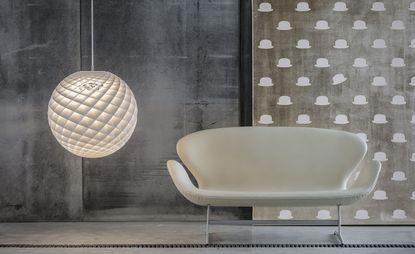 (Image credit: TBC)
Øivind Slaatto, 37, is a Danish designer with products in production for Bang & Olufsen, Le Klint and now, Louis Poulsen. He unveiled his new 'Patera' pendant this week at Carl Hansen & Søn in Clerkenwell, London, where Louis Poulsen has set up a mini-showroom. Wallpaper* caught up with Slaatto at the launch.

Wallpaper*: What is it about designing lighting specifically that motivates you?
ØS: I've always been very sensitive to light – probably more than is normal. In 2008 I got a concussion, and that's when it became stronger. I feel really happy when lighting is good; I get headaches with strong light and can be physically ill when I'm exposed to poor lighting. I use this handicap as a benefit when I'm designing.

The structure of the 'Patera' light is intertwined with mathematics and nature. Can you explain its origins?
The working name of this light was 'Sun'. The Sun is the engine behind everything in our galaxy. Everything circles around it. The cycles of the planets create day and night, winter and summer. Plants grow in a circular pattern, always turning toward the sun, and distribute seeds in this pattern.

If you look at the holes in my BeoPlay speaker [for Bang & Olufsen], you'll see they're arranged in spirals that travel in two directions, one further than the other. [It was] this natural motion [that] Fibonacci was somehow able to put into a formula. The Fibonacci sequence, or the golden ratio, is extremely simple: 0+1=1, 1+1=2, 1+2=3, and so on. The 'Patera' takes this sequence to the next level.

You grew up in a family of musicians and studied music yourself. Does your musicality inform your design?
I was lucky to have the best tuba teacher in Scandinavia. I wanted to play solo, contemporary tuba. It's a language nobody understands. But to be successful, you have to be able to speak the language with so much conviction that anyone can understand it.

Working in design is the same. You've got to create an image so clear and strong that anyone who sees it can relate to it. The 'Patera' is complicated, but there's a clear structure you can feel. It doesn't look complicated or forced. It just is what it is.

How is it made, physically?
It wouldn't be possible without the help of a computer, then a laser cutter. I did about five prototypes before Louis Poulsen took over. The first took three days to assemble. Now it takes less than two man-hours. The entire structure is made of three different lengths of sheet; ten of each, so 30 parts in all. Everything fits together precisely. It's delicate, but it doesn't come apart. If you really punch it hard, maybe. You never know. People can get angry.
INFORMATION
For more information, visit Louis Poulsen
Receive our daily digest of inspiration, escapism and design stories from around the world direct to your inbox