Build and customise your own free-of-charge lounge chair
Today's BYO means build your own, as opposed to bring your own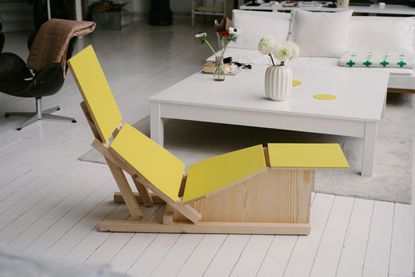 (Image credit: press)
Massproductions, the Swedish design studio known for its efficiently designed, high-quality pieces with purpose, is offering up a new chair design, free of charge. There's only one caveat - you build it yourself. The chaise lounge style chair titled '4pm Self Build' is named after 'the time of day when I often feel like putting my feet up with a mug of tea,' says Massproductions co-founder Chris Martin.
A DIY chair concept by Massproductions
Martin arrived at the concept for the self-build chair by accident when working on prototypes for the 4pm Chair, its official assembled counterpart (a traditionally constructed chair, produced in Sweden, which comes in Douglas fir or Cherry), also citing Enzo Mari's Autoprogettazione self-made furniture as inspiration. 'I was very familiar with Mari's project, but I thought it would be interesting to extend it a little, especially as he didn't, as far as I know, release a chaise lounge,' he says.
A pragmatist at heart, Martin spends a lot of time thinking about environmental concerns, and much of his business is geared towards production methods that solve for this. The studio works closely with its manufacturers to strip away any unnecessary build processes, reducing the construction journey as well as any redundant aesthetic flourishes.
Well, what would be the ultimate democratic way to share a new design with all, he thought? Make it self-building, with the instructions for the DIY chair available to all. 'We realised that the self-built version of 4PM was cheap, simple and fun to build. You may not be able to afford the official 4PM, but with instructions you can make your own and get the luxury of the chaise lounge, without the luxurious price tag,' says Martin.
'All you need to build your DIY chair is a printer to download the manual, some 2mm plywood and 45 x 45mm battens, all typically carried by your local hardware store,' he says. 'To put it together you just need some glue and screws - and an electric hand drill is good if you have one.' Suitable for most homes, the finished chair measures 1.3m long by 54cm wide and 88cm high - 'quite compact for a chaise lounge,' says Martin.
RELATED STORY
To showcase the versatility of the chair and its blank canvas nature, Massproductions commissioned four artists to build and personalize their own versions - Swedish fashion designer, Pia Wallén; Stockholm-based artist, Hank Grüner; American artist, Chris Fallon; and English designer, Michael Marriott.
Examples of the 4pm Self Build chair will be unveiled at Stockholm Design Week 2022 running Feb 7th - 13th (IRL and online) and instructions for the self-build chair will be available to download free of charge from the company's website. Massproductions co-founders Magnus Elebäck and Chris Martin will be holding workshops on how to build the chair at their new showroom on Södermalm, Stockholm, throughout the week. 'We are providing all of the materials for the project, wood, glue, screws, gin, tonic. I'm really looking forward to the week,' he says.
INFORMATION
massproductions.se (opens in new tab)
ADDRESS
Hammarby Allé 51
SE-120 30 Stockholm
View Google Maps (opens in new tab)
Tilly is a British writer, editor and digital consultant based in New York, covering luxury fashion, jewellery, design, culture, art, travel, wellness and more. An alumna of Central Saint Martins, she is Contributing Editor for Wallpaper* and has interviewed a cross section of design legends including Sir David Adjaye, Samuel Ross, Pamela Shamshiri and Piet Oudolf for the magazine.