Public offering: Dimore Studio and The Future Perfect team up on a retail reveal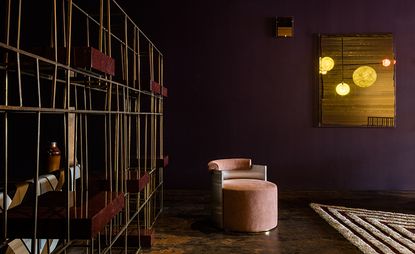 (Image credit: Lauren Coleman)
Historical allusion and handmade materials aren't exactly distinct or rare processes in many design practices. And yet, Dimore Studio seems to have the reputation of 'doing something different', as both industry insiders and lifestyle conglomerates – from Hermès and Bottega Veneta to Ian Schrager Company – all agree. 'We wanted to do something different because it didn't make sense to compete with the big names. If everybody had been using white, we would have been using green or purple,' says Britt Moran, one half the duo behind the Milan-based interiors firm, which opened in 2003 and has since become a cult studio for its ultra-luxe bricolage of design's past top notes. A little bit of Stilnovo, a dash of 19th century marquetry, a pinch of Italian renaissance – but as Moran says, 'we just source tons of antiques together and mix them with contemporary design'.

Moran and Emiliano Salci, his platonic intellectual paramour and studio partner of 15-years-plus, haven't ventured much into the commercial gallery world. Their interiors are best found in-situ – such as the Pump Room in Chicago, Ceresio 7 above the DSquared2 boutique in Milan, or even their 18th century Porta Nuova palazzo workspace-cum-design showroom. Despite selling Gio Ponti chairs and Hans Agne Jakobsson chandeliers to clients and antiques aficionados, their own work has never been been available for public consumption. Until now.

And where better to start but The Future Perfect, which has the world's first public offering, so to speak, of Dimore's designs. The collection includes the solar system chandelier 'Lampada 061', a slew of shaggy rugs and intricately fabricated sofas that 'everybody thinks look painted', says The Future Perfect's indefatigable David Alhadeff, whose design sense is almost Svengali-like.

'We have known each other for four or five years, [but] at the beginning we were not ready. It was not a real collection, so this year when he came, he said "We have to do something". We had matured, so I said "Let's try it!",' explains Moran of the move. 'The courtship was very nice so I'm sure the marriage will be too.' Thus, Alhadeff and Dimore joined forces to present a 'best of' collection.
Also involved in the collaboration was Brooklyn's Yolande Batteau of Callidus Guild, who provided a host of hand-painted wallpapers, and mirrors, a hand-painted threshold and paintings (all in 24K gold). 'There were more connections between our work than both David and I initially thought,' Batteau explains. 'This show is about elevating the design, and I just don't see this in galleries. There's so much life in here.'
INFORMATION
For more information, visit The Future Perfect website (opens in new tab)