Design retail round-up: London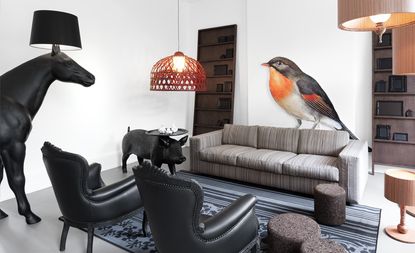 (Image credit: Marcel Wanders)
Wallpaper* Newsletter
Receive our daily digest of inspiration, escapism and design stories from around the world direct to your inbox
Thank you for signing up to Wallpaper. You will receive a verification email shortly.
There was a problem. Please refresh the page and try again.
Moooi showroom
The Moooi crew has been busy. Fresh from opening new showrooms in Antwerp and Milan earlier this year, they have now landed on British shores, with a store at Portobello Dock. The World of Moooi, which will be housed in The White Building at Portobello Dock, has been designed by Marcel Wanders, one the brand's co-founders, to display to optimum effect the design icons already associated with Moooi, alongside some of the new products launched at this year's Salone del Mobile. This effusive bunch are also excited to showcase work by Dutch floor resin specialists Senso - whose collection includes a new Marcel Wanders-designed range of flooring called 'Impressions' - throughout the 250 sq-m store.

Moooi, The White Building, Portobello Dock, 555 Harrow Road, London W10 4RH
While it's the pop-ups that will dominate the capital's design map over the coming week, the London Design Festival this year also leaves a happy legacy of more permanent additions to the city's already eclectic mix of shops.
Take, for instance, Tom Dixon, who after almost three decades in the business this year launches his first ever standalone store. Or, Moooi - the 'serious company with a smile' according to co-founder Casper Vissers - which has chosen this week to open the doors to its first showroom in Portobello Dock.
But the flurry of new permanent stores is not confined to Portobello. Case Furniture has upped sticks and moved to Clapham. Over in the east, Labour and Wait is expanding to much larger premises, which - lovers of their evocative collection of 1950s-style kitchen and garden paraphernalia will appreciate - is appositely housed in a tile-fronted ex-Truman brewary, and meanwhile serious and serial vintage hunters will make a beeline for Talisman's new Fitzrovia showroom, where high-end collectors' items span 1970s Murano glass to reupholstered nineteenth-century antique classic furniture.
And finally, there is EDC London's new showroom bang in the centre of town which, with its 2000-sq-ft devoted to a constantly changing collection of the contemporary and the classic, is laid out like a city apartment. Make yourself at home.
Labour and Wait
It's hard to believe it was ten years ago Labour and Wait first opened its Cheshire St store with its well-selected retro collection. To celebrate this landmark birthday, L&W has spread its wings into much larger premises, albeit only spitting distance away. As well as all the old favourites, you'll also find classic Penguin books, tea cosies and Tala kitchen collectibles. The new store is an addition rather than a replacement for the Cheshire Street premises, which will continue to trade on Sundays.
Labour and Wait, 85 Redchurch Street, London E2 7DJ, tel: 44.20 7729 6253
Talisman
Talisman design emporium has burgeoned exponentially since it first launched in rather more humble circumstances in Dorset 25 years ago. In addition to a vast showroom on the New King's Road which draws collectors the world over, it now brings its mixture of antique and contemporary design to the Georgian surrounds of Belgravia. As well as the eclectic pieces (from Murano glass to seventies Rougier sculptural lamps), Talisman reinterprets vintage pieces and takes on bespoke commissions - and all this against an extravagant theatrical background. You can also expect to get an eyeful of work from Milo Baughman, Karl Springer, Philip and Kevin LaVerne, Paul Evans and artisans Curtis Jere.

Talisman, 190-192 Ebury Street, London SW1W 8UP, tel: 44.207 730 7800
http://www.talismanlondon.com/
Talisman: A nineteenth-century Chesterfield sofa upholstered in green moleskin, a large single 1970s Rougier sculptural lamp, a 1970s Karl Springer-designed lacquer goatskin coffee table and a series of reconstituted pots.
Talisman: One half of a pair of Talisman bronze dogs after Jacquemart presides over a 1950s American armchair upholstered in contemporary fabric and a pair of nickel glazed display cabinets, housing a collection of original scent bottles. 
Tom Dixon Shop
It seems so obvious, but till now there was nowhere to find all of Tom Dixon's collections under one roof. Housed in an old Victorian goods carrier at Portobello Dock, the vibe is all about finding the extraordinary in the everyday; and will include the latest 'Industry' collection. Plus, among the myriad of Dixon-designed masterpieces, shoppers will also find work by the likes of Piet Hein Eek, New Caribbean Design and Ateliers Ruby.
Tom Dixon Shop, Wharf Building, Portobello Dock, 344 Ladbroke Grove, London W10 5BU
www.tomdixon.net
Case Furniture
Case Furniture takes up residence in Clapham, South London, and will be the only place in the UK to stock the brand's collection in its entirety. A particular highlight is the company's new collaboration with Shin Azumi's on the 'Covet Desk' and 'Particle Shelving', while also in its stable of designers is Matthew Hilton, Marina Bautier and Nazanin Kamali - all of whom prove why, since Case's relatively recent launch in 2006, it has scooped a myriad of awards on its quest 'to keep good design alive.'
Case, 189 Stonhouse Street, London SW4 6BB, tel: 44.20 7622 3506
http://www.casefurniture.co.uk/
EDC London
EDC's new Fitzrovia showroom is all about making you feel at home - so much so that it was conceived as an open-plan city apartment. Visitors enter through a heavy wooden door behind which lies a series of living environments, from the dining to the bedroom; over 2000-sq-ft, a trademark EDC eclectic mélange of contemporary and classic furniture is arranged throughout this simulation of the home. Expect to see designs from the likes of Ferruccio Laviani, Mauro Lipparini, Niki Jones, Jorg Zeidle and Philippe Bestenheider among many more, as well as a Limited Edition series created exclusively for EDC.

EDC London, 20 Margaret Street, London W1W 8RS, tel: 44.20 7631 1090
EDC London: The living room from left to right: 'Platner' tables, 'Lynton' floor lights, 'Mortimer' chair, 'Totem' candle sticks, 'Walnut' stools, Knoll's eponymous 'Saarinen' table', designed by Eero Saarinen, 'Nest' bowl, Vitra's 'Wooden dolls', 'Tripod' clock and 'Crown' candelabra.
EDC London: Different sizes and variations of the 'Saarinen' tables are scattered around the living room; atop the Saarinen side table sits an Ingo Maurer 'Poul Poul' table light, and beside is a leather 'Swan' chair. In the backgroud, a yellow 'Platner side chair' is spotlit by a 'Dickensen' floor light. In the foreground 'Tulip' chairs are drawn up to a marble-topped Saarinen table.
Receive our daily digest of inspiration, escapism and design stories from around the world direct to your inbox