Bid for limited edition pieces in charity auction 'Design Loves Milano'
Designers including Formafantasma, Marlene Hussaud and Objects of Common Interest donate products to go under the hammer on 12 May, in a project between auction house Cambi and creative agency Mr Lawrence, raising funds for Ospedale Luigi Sacco in Milan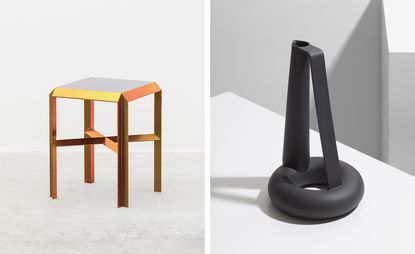 (Image credit: (L) Marco Campardo (R) Formafantasma)
Our design community continues to empower with unity during lockdown. In Milan, another project has piqued our interest – auction house Cambi has teamed up with Milan-based creative agency Mr Lawrence to launch a sale of donated limited edition products by a gobal design roster, titled Design Loves Milano.
'At the beginning of the Milanese lockdown, we received several calls from friends and fellow designers around the world,' say Annalisa Rosso and Francesco Mainardi, co-founders of Mr Lawrence. 'They were not just calling to see how we were doing and to show affection from a distance; the recurring theme of the calls was always: "Let us know what we can do for Milan."'
With the design world's most pivotal event Salone del Mobile postponed until 2021 (it should have taken place just last week), Rosso and Mainardi realised that this affected not only the industry and business, but the people in it. 'During the Design Week, we are accustomed to meeting and getting to know people from all over the world, in an extraordinary time of energy and pro-positivity....Because Milan is their city.'
Design Loves Milano is born from this global attitude of the Italian city being an epicentre for design – how can this unique cluster help and support during the crisis? Taking place on 12 May, and raising money for Ospedale Luigi Sacco in Milan, the initiative sees designers contribute from Brazil, Netherlands, Italy, France, London and beyond.
Inside the digital auction catalogue on the Cambi website, many of the donating designers have been asked 'Why Milano?' The positive responses flood in: 'Here for the love,' say Odd Matter; 'During a time where we are feeling powerless and witnessing from a distance what is happening, it gives the opportunity to show support through my work,' says Diego Faivre; 'The design community provocates and connects people. There was no hesitation for me to join,' says Hongjie Yang; 'Milano has always been the Italian city which best dives into the future without fear. Now she deserves our support,' say Stories of Italy.

So, what is up for grabs? Savvy bidders can choose from an array of contemporary pieces, from Marco Campardo's stool for SEEDS and Sabine Marcelis' ethereal lighting, to Marcel Wander's playful pieces for Alessi and Giacomo Moor's architecture-inspired tables.
'We like to think that the great design masters of the past, but also of today, international icons of Milan, are all reunited in this charitable initiative,' says Matteo Cambi, president and CEO of Cambi Auction House. 'Design Loves Milano is not just aimed at the city but at the entire population.'

Milan-based freelance art director and collage artist Alessandro Maffioletti has been commissioned to create an identity for the project. Made up of local architectural monuments graphically layered on a red backdrop, the artwork frames the initiative well, and is also available for purchase.
INFORMATION
Design Loves Milano on 12 May
Receive our daily digest of inspiration, escapism and design stories from around the world direct to your inbox