Design Days Dubai 2013: fair highlights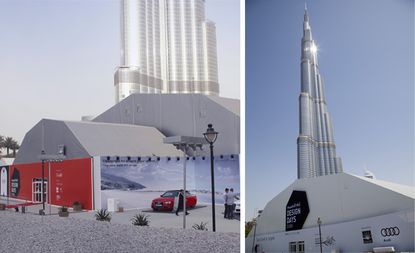 (Image credit: TBC)
Wallpaper* Newsletter
Receive our daily digest of inspiration, escapism and design stories from around the world direct to your inbox
Thank you for signing up to Wallpaper. You will receive a verification email shortly.
There was a problem. Please refresh the page and try again.
A purpose-built tent erected in front of the Burj Khalifa - (still) the world's tallest building - provided a dramatic setting for the second edition of Design Days Dubai, the region's only design fair. The four-day event welcomed 29 galleries featuring contemporary designs alongside vintage pieces and classics from the 20th century.

Fair director Cyril Zammit's vision is to attract more variety to the city, not only the names found at most major international shows. 'This is a fair of discoveries,' he says. On top of the strong return rate from last year's participants, Zammit was able to double the number of regional galleries. 'The financial crisis in Europe was still deep when we started recruiting galleries, but it pushed us harder to look for new names and look into our own region,' he says.

Visitors stepping into the tent were welcomed by an installation entitled 'A Million Times (Time Dubai)', created by Swedish design studio Humans Since 1982 and presented by Victor Hunt Designart Dealer. The choice of the commission underlined both the core value of the fair and the spirit of the city: young, innovative, liberal and transnational.

London design collective Based Upon, led by Richard and Ian Abell, emerged for the first time with a series entitled 'Nature the Creator, Man the Editor'. The sculptural furnishings and relief maps cast in bronze play on the Islamic idea of divine beauty: that beauty is ready-made by nature, and it's up to the designer to capture and frame it rather than imitate or improve it. A 'Fragmented Crack Table', for instance, explores how a crack can form over time in an opulent moulded dais.

Melbourne's Broached Commissions, whose work savours Australian history, made its debut with Trent Jansen's fur-accented 'Briggs Family Tea Service', which explores a turbulent period in Tasmanian colonial history. Charles Wilson's wood-crafted 'Tall Boy' was one of the most sophisticated pieces in the fair, along with Chen Lu's 'Dream Lantern' and Lucy McRae's tangled 'Prickly Lamp'.

On its second outing to the Emirate, New York-based gallery R 20th Century Design paid tribute to the late modernist Oscar Niemeyer with a series of his works, including a special red edition of his 1978 'Marquesa' bench, reproduced in honour of Niemeyer's 100th birthday. Also represented was American craftsman Wendell Castle, whose 5.5m 'The White Edition' dining table, designed in the 1970s, featured alongside glasswork by Jeff Zimmerman and metalwork by David Wiseman.

Olivia Yassudo's São Paulo gallery Coletivo Amor de Madre brought new talents and concepts from Brazil. Atelier Marko Brajovic's 'There Inside the Window' spins everyday objects into other functions, bridging real and imaginary space. 'Noize Chair', by architect Guto Requena, contemporised the iconic Brazilian 'Giraffe' chair (originally designed by Lina Bo Bardi) by enveloping its space with audio recordings captured around São Paulo.

Coletivo also exhibited work by Azusa Murakami and Alexander Groves of London's Studio Swine. Their 'Can City' project followed a sustainability theme: recycled-glass bottles became decorative light bulbs in their hands. The 'Construction Series', created in situ for Design Days, employed local building waste like concrete, rebar, crushed marble and camel leather.

Beirut's Carwan Gallery, founded by architects Nicolas Bellavance-Lecompte (from Canada) and Pascale Wakim (from Lebanon), riffed on Middle Eastern imagery with the new rug collection 'BAZ Kilim' by Iranian designer Taher Asad Bakhtiari. The gilded 'Sling Shots', by Lebanese designer Karim Chaya, became some of the show's most sought-after objects. And Emirati designer Khalid Shafar revisited the Arabian pearling custom with his 'ILLUSION Pearl' chair, strung with 8,856 cultured pearls.

Shafar was a major local beneficiary of Design Days' success, winning commissions by both Tai Ping carpets and Moissonnier to create limited editions to be launched at this year's fair. The cross-cultural exchange has also offered international designers a chance to enter the Gulf market. Studio Drift from The Netherlands, for example, returned under the auspices of Carpenters Workshop Gallery, yet also carried out some private commissions in the region.

Mexico City's Galeria Mexicana de Diseño, newcomers to the Gulf market, broke a sales speed record for the fair by selling its entire collection on the preview day. The collection, designed by Telharmonium and produced by Fabrica México, married Scandinavian simplicity and the rich visual language of Mexico.

The lecture series, overseen last year by ÉCAL, was taken over by the British Crafts Council, who brought along Gallery Libby Sellers, Gallery S O, Marsden Woo Gallery and Vessel, along with speakers Max Lamb and Brent Dzekciorius.

The four-day fair left the city blessed with design, and visitors departed with big smiles. It takes time to build a market, certainly; but for Dubai, it shouldn't take longer than to build a Palm.
Receive our daily digest of inspiration, escapism and design stories from around the world direct to your inbox
Yoko Choy is the China editor at Wallpaper* magazine, where she has contributed for over a decade. Her work has also been featured in numerous Chinese and international publications. As a creative and communications consultant, Yoko has worked with renowned institutions such as Art Basel and Beijing Design Week, as well as brands such as Hermès and Assouline. With dual bases in Hong Kong and Amsterdam, Yoko is an active participant in design awards judging panels and conferences, where she shares her mission of promoting cross-cultural exchange and translating insights from both the Eastern and Western worlds into a common creative language. Yoko is currently working on several exciting projects, including a sustainable lifestyle concept and a book on Chinese contemporary design.