David/Nicolas changes the elevator cabin experience with new designs for Mitsulift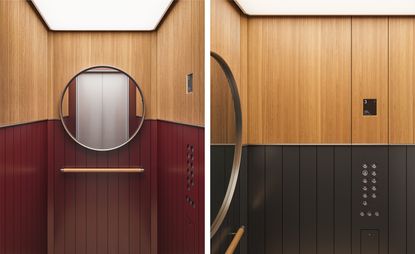 (Image credit: press)
David Raffoul and Nicolas Moussallem, founders of the Lebanese design studio David/Nicolas, have never limited themselves when it comes to design. Their portfolio to date includes everything from interiors to industrial products. However their latest project, a pair of smartly appointed elevator cabins, marks a first for the seven-year-old studio.
The project, which comprises two different cabin designs, was completed for elevator specialist Mitsulift, a company that is run in partnership with Japanese brand Mitsubishi but is headquartered in Lebanon and operational in eight different countries.
'Mitsulift contacted us to design their first signature elevator about a year ago,' explains Raffoul. 'The challenge was to provide passengers with a unique moment within the short period of time they are within the cabin.'
The duo say they approached the project much like they would the design of a piece of furniture; and sure enough the results carry all the hallmarks of David/Nicolas' refined work. Finished in customisable palettes of sculpted wood, polished laminates, arched steel, and natural Travertino stone, the two modular interiors are designed to be adapted to suit different sized cabins.
The two interiors provide two alternative ambiences. The first, the D/N 1 model, has an elegant domestic feel, with walls clad in sculpted wood and laminate panels. Spilt horizontally into two contrasting halves, the walls are anchored by a circular stainless steel-framed mirror at the rear and a French oak handrail. A single slab of Travertino stone lines the floor.
Meanwhile, the D/N 2 has a more streamlined and futuristic look with vertical panels of silver or black stainless steel juxtaposed with inlaid oak. A blue or red wool and polyester mat with natural French oak skirting board covers the floor and a centralised rectangular mirror is flanked by two solid oak support panels for leaning passengers.
'We see the cabins as industrial pieces that will be adapted in different contexts,' concludes Moussallem. 'Proportions and functionality are all part of the design.'
INFORMATION
For more information, visit the david/nicolas website and the Mitsulift website