Digital brand Clippings aims to revolutionise the interior design business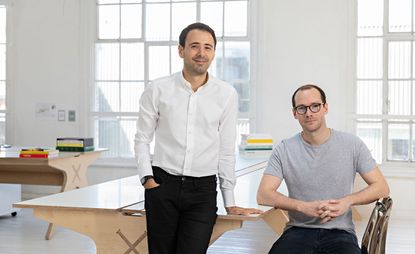 (Image credit: François Halard)
Wallpaper* Newsletter
Receive our daily digest of inspiration, escapism and design stories from around the world direct to your inbox
Thank you for signing up to Wallpaper. You will receive a verification email shortly.
There was a problem. Please refresh the page and try again.
'We want to revolutionise the interior design industry,' says Adel Zakout, CEO of digital platform Clippings, which he co-founded with friend and fellow Architectural Association alumnus Tom Mallory in 2014. 'The industry is currently very old-fashioned and inefficient. A designer might spend 70 per cent of their time trying to find products. It's also incredibly opaque, with a lack of transparency and information, particularly on pricing,' he adds.

Clippings is an online marketplace that streamlines the process of furniture and product procurement, delivery and installation for architects and interior designers, but Zakout and Mallory's strategy extends further than simply retail and logistics. If these two succeed at their next endeavor then soon industry professionals across the globe will be using their recenty rolled out software daily to design and implement interior projects, in the same way a graphic designer might rely on Indesign, or a picture editor use Adobe Photoshop.

We meet at the rather dusty Clippings Shoreditch headquarters, which is currently being smashed about to create an expanded open-plan space for their burgeoning workforce. The team currently stands at 85 (25 product engineers, 20 sales people, 20 catalogue content creators and the rest marketing and editorial), but since the platform continues to achieve more than 400 per cent YOY growth, this is likely to expand.
Clippings' Instagram feed offers inspiration and information about trends and new design
The Clippings pitch is seductive. Zakout, takes the lead and is so self-assured and enthusiastic it's no wonder venture capitalists have been quick to invest. The last Series B round of funding raised £12m and investors already include the likes of Pascal Cagni, former vice president of Apple, David Begg, former MD and co-founder of design brand Tom Dixon, and Fiona Dent, former group managing director of Time Inc (UK). But then the pair have plenty of dotcom experience behind them.

Early digital adopters, Zakout had his first computer aged four and they both dabbled in start-ups during their final year at the AA, setting up an agency in 2007 and raising $2m just three months after graduating to launch Open Buildings – 'a Wikipedia for the built environment'. Both spent two years working on the start-up in Bulgaria, where many of their product engineers are still based today. Zakout has the web design background, whereas Mallory is more tuned into the UI and UX aspects of digital.
Whereas consumer marketplaces have failed, such as FAB.com, Clippings is bolstered by being a trade business, which seems watertight since each new customer is likely to make multiple purchases. And when Zakout likens the current system of furniture and product sourcing to the old high street travel agents, you wonder why no one has done it before. 'They'd pull out a book, and leaf through the pages. The interior design industry is still based on paper catalogues and its difficult to get information. Our platform aggregates everything in one place, and as a result can also offer simpler purchasing logistics and better trade pricing.' There's a wide choice too. Clippings has already built a portfolio of over a 1,000 brand partners with 10m+ products. Italian lighting brand Flos was one of the first companies to believe in the business, joining in 2014.
'We're really grateful to Piero [Gandini, CEO of Flos]. It had a domino effect because then a ton of other brands trusted us,' recalls Zakout. 'When Vitra, one of the largest manufacturers, joined in 2017 we felt like we'd really crossed a bridge.' Zakout is keen to point out that Clippings is 'brand agnostic' and happy to source anything on behalf of customers whether they officially represent that brand or not. A browser extension on their website allows designers to source from third party websites outside of the Clippings umbrella. The team then approaches the brand on the designer's behalf.
So far Clippings has 10,000 registered trade accounts, with 70 per cent of revenue coming from the UK, although further expansion into the US is imminent. Right now though, the pair are keen to spread the word about their evolved software system. Zakout sees Clippings as three businesses: the marketplace, logistics and the software. 'They could all exist independently but only by grouping them do you create a 360 degree experience.' He views the professional software system as the unifying third tier of the business.
Many firms no doubt use their own server systems for project work, but Clippings aim to simplify the whole process. Akin to a visual social media platform, their package allows firms to manage projects by logging in as a team or individually to create and share folders, list layouts and specify and suggest or select products for particular spaces. Clients can also be invited to 'share' this information, budgets can be set and timelines inserted. The designer has control and can choose to share trade prices with the client or not.
'Users won't have to buy everything on Clippings. They can approach another dealer, add them in and manage the process with the software,' explains Zakout. The software works on a subscribers model, with constant updates and variable fees for individuals and larger corporate companies – for whom Clippings offers to customise the software and integrate it into existing systems.
The duo believe the fourth pillar of the brand to evolve is editorial. Clippings has already teamed up with Wallpaper* on future trend symposiums, a post-Milan report attracted record numbers of attendees, so expect more such collaborative events in the near future.

So do either of them, who are incidentally both the sons of architects, wish they'd too become architects? 'I still get a phone call every month from my dad, saying, "When are you going to finish this computing, electronics, IT thing and become an architect?" says Zakout. By the looks of things, he's going to have a long wait, although ironically his son may well be helping, indirectly, to complete some of the world's landmark buildings.
INFORMATION
For more information visit the Clippings website
Receive our daily digest of inspiration, escapism and design stories from around the world direct to your inbox