Best Line Work: minimalist designs from the Wallpaper* Design Awards
Minimalist lighting and furniture defined by sharp masterstrokes are named Best Line Works in the Wallpaper* Design Awards 2022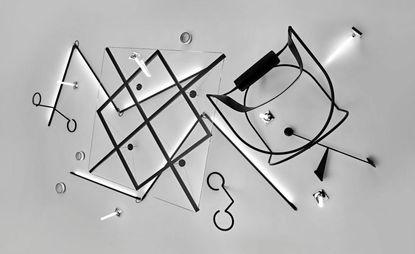 (Image credit: Neil Godwin, Olly Mason)
Our monochrome mix of minimalist designs includes several graphic lighting options, starting with BIG's 'Vine' table light, a loopy design for Artemide (below). With only two joints but maximum flexibility, it features two incomplete rings, one as the light and the other as the stand. It's a pure and balanced design that leaves you free to shape the lamp as you wish and is available in a variety of options, from lamps for your home office desk (opens in new tab) to floor and wall lights.
Also truly illuminating is Philippe Starck's lighting debut for Kartell, a striking portable light (opens in new tab) resembling a mini lightsaber. Called 'Goodnight', it is inspired by the most romantic source of light, the candle. Replicating a candle's soft reflection and warm light, the high-tech object is safer to use, making it ideal for restaurant tables. Its base is made from recycled material and available in six different colours.
Our last lighting option is Emiliana Martinelli's 'Colibri', which evokes a bird on a branch. Offering both direct and indirect light, it consists of a black aluminium structure and white polycarbonate diffuser.
Extending the minimalist design theme to tabletop items, our awards honour Adama Studio's black-and-white, stackable 'Bau' bowls, handcrafted in Israel, and Colin King's perfectly balanced 'Interconnect' candleholder centrepiece for Menu. Poised and elegant with its simple geometric shapes, the Brooklyn-based designer's sculptural creation is available in polished brass or painted steel.
Our winning designs also include larger items of furniture. The 'TT_01' table is a stunning design, featuring slender legs and tension cables supporting a heavy steel grid and glass top. It is the work of Belgian architects Jasper Poesen and Lucas Van Hiel, who describe it as 'a symbiotic relationship between rigid and elegant, solid and fragile'.
As for Marco Lavit's lightweight 'Lemni' armchair for Living Divani, its striking floating silhouette is made of a suspended black leather seat and matt black tubular steel frame. An 'intimate and chic observatory on the world', it is made of a series of rotating semicircles, forming a three-dimensional infinity loop. Thanks to its bolster-shaped backrest cushion, it is also as comfortable as it is beautiful.
INFORMATION
The Wallpaper* Design Awards 2022 feature in the February 2022 issue of Wallpaper*. Subscribe today! (opens in new tab)
Léa Teuscher is a Sub-Editor at Wallpaper*. A former travel writer and production editor, she joined the magazine over a decade ago, and has been sprucing up copy and attempting to write clever headlines ever since. Having spent her childhood hopping between continents and cultures, she's a fan of all things travel, art and architecture. She has written three Wallpaper* City Guides on Geneva, Strasbourg and Basel.
With contributions from