Architecture afloat: a new design-led barge boat by Bert & May Spaces provides an alternative housing solution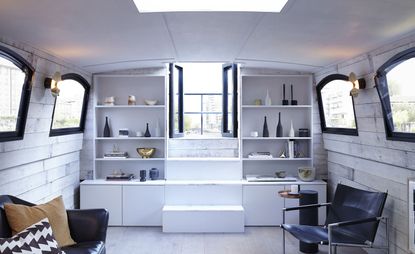 (Image credit: Press)
With London house prices soaring into the stratosphere, for many the notion of owning a property has become nothing more that a fanciful dream. As a result, demand for small but smartly designed affordable spaces is increasing. Hoping to cater to this underserved and growing market is a new alternative housing development spearheaded by the property arm of lifestyle brand Bert & May - 'Bert & May Spaces (opens in new tab)' - that is reinventing the traditional barge boat as a desirable, design-led living space.

'I was fed up, as many successful professionals like me are, not being able to afford a decent design led home in London,' explains Bert & May Group founder, Lee Thornley. 'Instead I was staying in hotels and commuting at weekends. With the canal running past Bert & May's showroom in Vyner Street, E2, it suddenly dawned on me that a barge could be the perfect solution.'

Made in the UK and designed in collaboration with RaT Architecture (opens in new tab) and design project manager Laura Fulmine (opens in new tab), Barge No.1 is the first phase in a series of inventive and affordable living spaces that the Bert & May team have planned for London and the UK. 'I am now obsessed with the idea of providing unique homes on water and convinced the number of people living on water will rise dramatically over the next few years,' says Thornley. 'The more I look into it I can honestly say there's a growing water-based community in the UK.'

To launch its new floating venture, the Bethnal Green-based brand installed a 50ft wide beam barge in St John's Square, just behind the Zetter Hotel where they hosted talks and events during Clerkenwell Design Week. Decked out with thoughtfully-sourced fittings and furniture from brands such as Vanja Bazdulj and Stovax, luxury lighting from Atelier Areti and vintage pieces by Béton Brut, the one-bedroom barge feels surprisingly spacious. 'By using freestanding furniture I have allowed the barge to remain versatile,' says creative consultant and design project manager Laura Fulmine, who kept the Scandinavian-inspired interior as open-plan as possible. 'The pieces can then be adapted to suit the individuals living needs within a limited space.'

With a number of 'water agents' arranging moorings from Angel to Richmond, and a series of modular homes in the works (part of Bert & May's 'phase two') the capital's housing options just got more interesting.