The Roca Brothers' new restaurant celebrates 'ordinary'
The Roca Brothers latest dining concept – Girona's Restaurant Normal – is designed by Catalan designer Andreu Carulla in collaboration with local artisans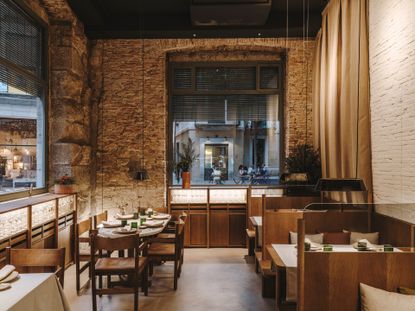 (Image credit: Salva Lopez)
Defining a space that is both familiar and new, Catalan-based designer Andreu Carulla has adapted the ordinary for the latest dining concept from renowned chefs and sommelier, the Roca brothers. Normal restaurant extends the longtime partnership between the two studios since working together in 2009 on the three Michelin starred El Celler de Can Roca—named the World's Best Restaurant twice over. Normal is a celebration of ordinary life, building on timeless foundations that look not towards fashion or trend but to an event that has redefined our lives.

'In a moment where the whole world was in lockdown, living in surreal times, we were longing for normality,' Carulla says. 'There seems to be such a craze for standing out, that what is ordinary or normal instantly becomes extraordinary. In the end, it is all about expressing our normality, either through gastronomy for the Roca brothers, or through design in our case, with a down to earth approach in both disciplines.' The restaurant occupies an expanse that feels out in the public realm and comfortably like home at once.
Roca Brothers latest opening: Restaurant Normal
Normal, set in a 17th-century building in the heart of the historic centre of the Roca brother's hometown of Girona, features a distillation of objects and design concepts down to their most habitual state. This year marks Carulla's eponymous studio's 15th anniversary. Having worked almost exclusively in product and furniture design, Normal is the atelier's first completely developed interior design project. 'Our work approach and process is the same [for both],' Carulla says. "It's about coming up with a strong concept, studying and analyzing the needs of the user, selecting all the materials, processes, and finishes.' An advantage to being able to see from both sides of the drafting table, Carulla is able to convey the exact mood or attitude of a room by designing everything from scratch. 'We were given a free hand to design all the furniture. Everything is tailor-made, making sure that everything speaks to the space rather than the other way around.'

Looking at the materiality of objects and tactically of occasion, Carulla has brought in local artisans to outfit the dining room—a custom that is at the core of his practice. ' We have worked with several local artisans from different disciplines such as ceramicists, carpenters, and basket weavers for Normal. Indeed, it is a true collaboration,' he says. 'We learn a lot from them, from materials to processes and techniques which sometimes go back hundreds of years, and we use this tried and true knowledge to implement our ideas.' The main features of the dining room include modern custom-fitted wooden booths of French oak and shelving units that line the original stone walls. Double height windows are accentuated with ceiling to floor drapery. Appointed tanned leather dining chairs punctuate the room taking inspiration from traditional Spanish lattice chairs. And meticulous signage can be found hand-carved into the limestone floor and tiles—all which wouldn't have been possible, Carulla says, had it not been for these skilled artisans.
In the spirit of El Celler, Normal approaches the dining experience with the world-class anticipation that comes with Joan, Josep, and Jordi Roca in a revitalised and approachable way. 'The Roca brothers are well respected and cherished, so everyone involved has been super motivated in all the stages of the project [to match that].' The authenticity of Normal builds upon a canvas of history that is imbued within its walls, constructed with raw, exposed, and honest materials. Deeply coloured ceramic lamps and tiled shelving with integrated lighting underscore a warm hue to aisles and corners. While playful terrazzo countertops made from recycled glass from El Celler and unique uni-bodied fountain spouts in the bathroom offer a lighter cadence to the overall tenor and ambience.

After more than a year of challenges that have changed and shifted our perceptions of the world and how we interact within it, at restaurant Normal, Carulla and the Roca brothers bridge what we hope for in a fine dining experience with what we've come to appreciate after spending so much time in the ease of home. 'I hope that people visiting the restaurant feel surprised or amazed at the beauty of simplicity—of normality—and that everyone feels cosy, comfortable and ready to enjoy a good time among loved ones.'
INFORMATION
restaurantnormal.com
ADDRESS
Restaurant Normal
Plaça de l'Oli
Girona
Spain
Receive our daily digest of inspiration, escapism and design stories from around the world direct to your inbox