Andreas Murkudis debuts third store in Berlin's Tiergarten neighbourhood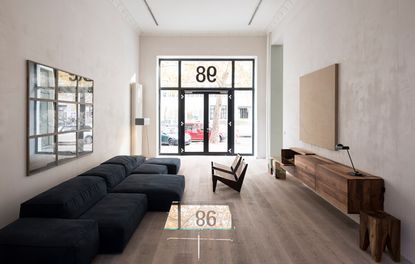 (Image credit: Thomas Meyer / Ostkreuz)
When an empty space became available for rent on Berlin's Potsdamer Straße, retail visionary Andreas Murkudis confesses he snapped it up on an impulse simply 'to save the last great space available' in the city's gentrified red-light district.

It was only afterwards that Murkudis, who has stores on this stretch at Nos. 81 and 77, realised that it was the perfect space for hosting events and exhibitions. Having already put the space to use by hosting shows by the artists Mitch Epstein, Lewis Balz and Olav Christopher Jenssen, the German-Greek retailer has now transformed No.98 into a showroom presented as an aspirational apartment.
'What has now emerged naturally is the luxury of an open platform, the state of tabula rasa,' he muses.

Called Andreas Murkudis 98, the store is a series of customised interior concepts that include living and working areas, and a kitchen and bathroom all expertly executed by the store's interior design team who area on hand for consultations.

Each area is furnished with an extended selection of the pieces that can be found at Murkudis's existing furniture store at Potsdamer Straße 77, as well as a few special surprises including the introduction of Dimo Chair – the first producer to take up the original furniture designs by Pierre Jeanneret, cousin of the architect Le Corbusier.
'Murkudis is one of the very few who knows how to sell both fashion and design,' says Wallpaper's Nick Vinson who attended this month's launch. 'What I like about 98 is that it's laid out like an apartment. It has Agape bathrooms and a bedroom with a special bed customised by Andreas and his brother Kostas for Coco-Mat, with custom sheets by Ege – an old school purveyor of linen bedding from Ulm in Germany.'

'He's got all the right stuff in there and it feels very different from most "furniture" stores which are all predictable and samey.'

While No.77 will continue to show furniture and design and No 88. fashion and accessories, No.98 is a flexible space that can host launches and shows of designers and makers while also providing a taste of what the Andreas Murkudis lifestyle looks and feels like at home.
INFORMATION
For more information, visit the Andreas Murkudis website
ADDRESS
98 Potsdamer Straße
10785 Berlin
VIEW GOOGLE MAPS (opens in new tab)