A tour of design duo Yabu Pushelberg's home and some of their recent projects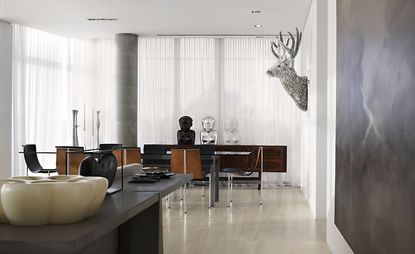 (Image credit: press)
To find a suitably sumptuous setting for our March issue's Black Swan fashion story, we turned to Yabu Pushelberg, the design duo known for their interiors for hotels, private houses and fashion flagships across the globe. They handed us the keys to their New York apartment in a Richard Meier-designed tower on Perry Street. Here, our softly tailored looks seemed right at home amid the sculptural furnishings and rich textures of the 4,000 sq ft space. And what model wouldn't be pleased by some of the most flattering light in town.

Layered with deep, rich woods and sinuous silhouettes, the apartment is a testament to the timeless Fifth Avenue aesthetic that's seen George Yabu and Glenn Pushelberg feted the world over (their beauty floor at Bergdorfs is still there 15 years later). It's a look that's elegant but not decadent, subtle yet memorable, gracious but not prim. When Shanghai opened its first Lane Crawford department store with a Yabu Pushelberg interior last autumn, it was a sign the city had matured beyond its boom time flash and settled into its prime.

In projects like the Clement restaurant at New York's Peninsula Hotel and the London Edition, the team has excelled by delivering what guests want, even if they don't know they want it: luxe finishes, great lighting and showstopping artistic flourishes. More recently they've updated the Hotel Victor in South Beach with warm tailoring and woody accents as a counterpoint to the celebrated Art Deco fixtures. And their pared-back interiors for New York's One Madison development focus on expensive grainy woods and veined marbles.

Yabu Pushelberg create the kind of cocooning environments that you just don't want to leave - which made handing back the keys to their Perry Street home all the more of a wrench.