Stellar Works and Hosoo Textiles' new Kyoto showroom is a timeless transformation
Stellar Works and Hosoo Textiles' Kyoto showroom by Copenhagen-based design atelier OEO Studio is an ode to timeless craftsmanship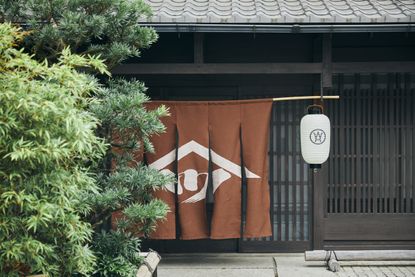 (Image credit: Courtesy OEO Studio)
Copenhagen-based design atelier OEO Studio has transformed a 200-year-old machiya townhouse in Kyoto into an artistic enclave for Shanghai-based Japanese furniture brand Stellar Works and renowned kimono textile specialist Hosoo, creating an immersive experience that is perfectly in tune with their shared philosophy of timeless craftsmanship.
Stellar Works and Hosoo Textiles' Kyoto showroom
Discreet, muted tones and an earthy material palette of plaster walls, timber floors and shoji screens retain the quintessential spirit and understated beauty of this classic Japanese residence in the historic Nishijin textile district, while the fluid semi-open layout and a traditional engawa (veranda) overlooking the courtyard garden allow for separate backdrops showcasing different collections.
The scene is set from the large genkan (entrance area) where guests remove shoes before stepping onto a tatami-mat space with a handpicked selection of furniture. At the time of the store's opening, this included an elegant minimalist Yabu Pushelberg room-divider screen whose partitions featuring Hosoo's signature fabrics can be adjusted and the colours mixed and matched to change the mood of a room.
Also on show was the 'Discipline' sofa, an enticingly curvaceous modular piece designed by Stellar Works' creative directors Neri & Hu, and upholstered in a complex weave of silk, silver and washi, woven using Japanese three-dimensional techniques in the adjoining Hosoo workshop.
'These fabrics have a very unusual appearance and texture that fit beautifully with the very simple minimalist lines of our designs,' Yuichiro Hori, the owner of Stellar Works, explains.
Hosoo was founded in 1688, and its reputation for traditional weaves dates back centuries. Now the 12th-generation owner, Masataka Hosoo, has overseen the invention of a revolutionary new loom that allows for a far greater width than the typically narrow bolt of cloth for obi, thereby opening the door to endless exciting future possibilities such as the interior fabrics for Stellar Works designs.
Throughout the 200 sq m showroom, furnishings such as the 'Taylor' sofa, a design by Yabu Pushelberg with a soft generous form, and the 'Aya' collection of sleek yet comfortable dining chairs by OEO Studio, are creatively arranged alongside works by artists and artisans, including an outstanding new collection of tatami mats in soft pink and indigo developed by Mae Engelgeer and made by Yokohama Tatami.
The newly launched aviation-inspired 'Kyoto' lamp by OEO Studio is another standout Stellar Works piece. Made of Unesco-listed washi paper by the same craftspeople who produce Kyoto's traditional washi and bamboo wagasa (umbrellas), each shade features an enso (Zen circle) hand-painted in black ink, and the lamp packs flat for shipping.
Showrooms by their very nature are functional spaces, but this expressive collaboration communicates a shared vision in a unique place that embodies a deep respect for both heritage and innovation, conveying a very contemporary cultural exchange between modern design, traditional objects and architecture.
Stellar Works x Hosoo Showroom
By appointment only
752 Bishamoncho, Kamigyo Ward, Kyoto, 602- 8227, Japan
stellaworks.com hosoo-kyoto.com