'Staydream' by Sony and Stellar Works integrates craft and tech for the home
At New York Design Week, Sony and Stellar Works joined forces to present 'Staydream – A Surreal Reality', making home technology part of the furniture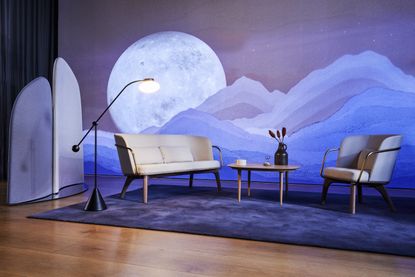 (Image credit: Jonathan Hokklo)
Great ideas don't come with a timeline. You can't rush creativity, the thinking goes –and that's something both Stellar Works' CEO Yuichiro Hori and Sony's Design Center director Hirotaka Tako deeply understand. In fact, the design luminaries, who've been friends for a decade, after many years of conversations and exchange, have struck upon the right avenue for the furniture forerunner and technology powerhouse to collaborate. As Tako jokes, 'Every year, we'd say: "In five years, what if we do it [collab] next year?" Then three years later, we asked: "So we do next year?" And then finally the idea came last year.'
'Staydream': Sony and Stellar Works' digitally savvy living
Enter 'Staydream – A Surreal Reality', a prototype concept unveiled for NYCxDesign 2023 that integrates technology into the way people live (or can optimally live). As Hori says, 'we want to show the lifestyle'. Walking into Stellar Works' Manhattan showroom, which housed the collaboration during New York Design Week, you discovered a vision of 'real space environments to blend into your life', explains Tako.
Seven 'experience zones' integrated Stellar Works craft with Sony's digital ingenuity. For example, 'Beyond Wallpaper' combined Calico Wallpaper's 'Escape Collection' with an interactive series of projections from Sony that responded to the space's occupants and moved with them. The projection's moon was controlled by a coffee cup – walk with the mug and the moon followed. Users were able to change the scenery by flipping over an hourglass 'remote.'
Perhaps the most pioneering products displayed, that will eventually (likely!) land in the hospitality sector, were the 'Byōbu' partitions – their name taken from the Japanese word for 'folding screens'. The large-scale wood room dividers with speakers and other tech seamlessly built inside can play music but also respond to the immediate environment as well as the outside world. Raining outside? The 'Byōbu' will play rain sounds. Want music for a space that doesn't float to another room? The 'Byōbu' focuses the sound in the specific space. 'This technology is trying to make your life better, more than just for convenience,' says Tako.
For example, the 'Byōbu' screens were integrated into a vignette called 'Feast of Life', where Stellar Work's 'Everyday' pendant was linked to the screens' tech. As visitors walked across the room, lights turned on or off based on their location. Meanwhile, in the 'Nature's Chorus' display, the 'Everyday' pendant and 'Byōbu' were synced to nature's sounds outside (such as birds) to create 'a cave experience', says Tako.
And of course, there was Hori's personal favorite set-up: 'I asked Hiro how to make a home theatre function in the bed.' The 'Byōbu Bed' seamlessly integrated sound and projection elements into a Kvadrat fabric-covered, self-contained sleeping environment. Imagine a cocoon with an entertainment viewing space at its foot, sound behind your head, and anything you could possibly need within reach (like a shelf for champagne!). 'When I did the first sketch of this one, I still couldn't believe how it can be produced and engineered,' says Tako, but working with Stellar Works' factory, the prototype was achieved in only four months.
'If you don't do these challenges, there's no discovery, there are no game changers,' concludes Hori.