Japanese Magoji kites on display at Noguchi Museum
Kites from Magoji, the legendary Japanese kite atelier, are on display at the Noguchi Museum shop until 6 August 2023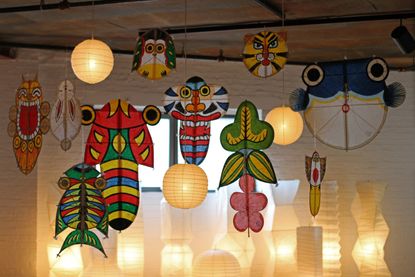 (Image credit: Evan Scott)
Wallpaper* Newsletter
Receive our daily digest of inspiration, escapism and design stories from around the world direct to your inbox
Thank you for signing up to Wallpaper. You will receive a verification email shortly.
There was a problem. Please refresh the page and try again.
Don't discount a museum gift shop as only a place to buy merch. In fact, until 6 August 2023, the Noguchi Museum Shop, in New York, is mounting a special installation from Magoji, the legendary kite atelier from the windy Tobata region of Kitakyushu City, on Kyushu island in Japan.
Magoji Kites at Noguchi Museum
Magoji kites are revered in Japan: founded in the Meiji era by Magoji Takeuchi, these bamboo-and-washi paper aerial objects fashioned as folklore figures and animal creatures (the cicada in particular), are cultural totems. Today, the tradition is carried on by Magoji's grandson Yoshihiro Takeuchi and great granddaughter Azusa Tatsuishi. The kites themselves are constructed as a complex system of knots tied around bent bamboo, the process Takeuchi-san oversees, while Azusa's colourfully-painted designs are then affixed to the skeletons to make the kite complete.
This installation - which is really a thoughtful and curated selling exhibition - as Evan Scott, Manager of Retail and Merchandising, explains, is an opportunity to display some 70 of Magoji iconic designs, 'to give them greater context to see just how much work and vision is put into these.'
How this all came about is a tale of inquiry and serendipity. As Scott explains, the assistant retail manager Riccardo Sossella, who in his spare time was researching the Mingei Movement, stumbled across Magoji. Almost simultaneously, fellow-museum staffer, Miwa Neishi, a ceramicist, was traveling on the island of Kyushu, visited the the workshop and parlayed her encounter with the kite-makers to the museum team. Scott saw the opportunity to collaborate, with the caveat that 'we needed to try to see if they have the capacity to work with us because it's only the two of them, and they've got a pretty good business in Japan.'
Indeed Magoji could supply the goods. And, as Scott observes, 'for craftspeople from Japan who grew up knowing about Noguchi having their work here is very meaningful.' Now in the shop, the kites are hung from the ceiling, with their washi-paper folklore figures illuminated by their material kin, Noguchi's Akari lamps, leaving 'a fascinating play between two,' adds Scott.
Isamu Noguchi and kites
The connection between Isamu Noguchi and kites is long and rich—in fact super fans of Noguchi might instantly remember the sculpture Kite, from 1958. But Noguchi's connection to the high-flying toy wasn't just a one-off inquiry of form. In fact, the Twentieth-century artistic titan 'was primarily interested in Japanese traditional craft' as Scott says, had a long-standing 'meeting of minds' friendship with Tsutomu Hiroi, perhaps Japan's most famous kite-maker.
Hiroi was one of Noguchi's sculpture assistants, even helping Noguchi on the Hiroshima Peace Bridge project, but broke out on his own in the 1950s to delve deep into the realm of kites; Noguchi stayed close, even writing the foreword to Hiroi's definitive monograph in 1972. While the curatorial connection hasn't ever been formally made, there's often visual parity in Noguchi's works that echo kite skeletons - just look at the 1955 stage sets hat he designed for the Martha Graham Dance Company.
Just as a stage set is here today, and gone tomorrow, so will the Magoji. Why such a short engagement? 'Hopefully they'll all sell and then there won't be any left,' says Scott with a laugh. For a lasting memento (if you can't snag a kite yourself), the museum is also hosting a drop in children's 'wind element' class that's also a kite-making program on Saturday 5 August. 'We're just trying to like live up to Noguchi's standards in his own life and practice,' concludes Scott.
Kite House Magoji are on view at the Isamu Noguchi Foundation and Garden Museum until 6 August 2023
9-01 33rd Road (at Vernon Boulevard)
Long Island City, New York 11106
Receive our daily digest of inspiration, escapism and design stories from around the world direct to your inbox
Julie Baumgardner is an arts and culture writer, editor and journalist who's spent nearly 15 years covering all aspects of art, design, culture and travel. Julie's work has appeared in publications including Bloomberg, Cultured, Financial Times, New York magazine, The New York Times, Wall Street Journal, as well as Wallpaper*. She has also been interviewed for The Atlanta Journal-Constitution, Miami Herald, Observer, Vox, USA Today, as well as worked on publications with Rizzoli press and spoken at art fairs and conferences in the US, Middle East and Asia. Find her @juliewithab or juliebaumgardnerwriter.com