London Design Museum features teen-designed propagation tool, Eco Seed
The Design Museum, London, is selling Eco Seed, a propagation tool by teenage students, winners of Design Ventura 2021-22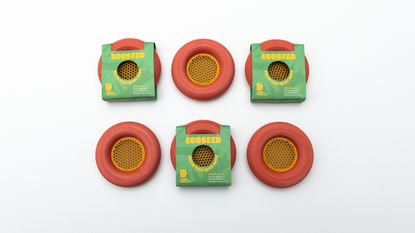 (Image credit: Photography: Richard Heald)
Now being sold at the London Design Museum, Eco Seed was designed by a team of five students from Cambourne Village College in Cambridge. The product is a tool to aid propagation and was crafted by the students with sustainability at the fore.
Eco Seed is inspired by the idea of growing plants from seed with few resources. It comprises a grid structure surrounded by a ring of recycled PLA plastic, and works by floating on the surface of water. Seeds sit in the middle of the device, partially submerged, which provokes germination, and the user is able to observe the process. The seedlings can then be easily taken from the device and planted out.
Complementing the product's sustainably sourced, recycled PLA make-up, the packaging is made from biodegradable algae paper, demonstrating the students' commitment to sustainable design.
Eco Seed propagation tool, winner of Design Ventura
The design was part of Design Ventura, a competition for 13-16-year-olds that offers them a chance to bring their own creations into production – and to the Design Museum shop. Proceeds are going to the students' charity of choice, the Motor Neurone Disease Association.
After submitting a prototyping process to the judges, the team of five Cambourne Village College students behind Eco Seed was selected from 18,000 entrants and placed among ten shortlisted schools. The team then pitched their idea to a five-strong panel of designers and industry professionals.
After being selected as winners of the 13th annual Design Ventura competition, the team moved onto the production process, working closely with London-based youth education and design agency Triple Double, and 3D-print studio BatchWorks.
The judging panel comprised Wallpaper* design editor Rosa Bertoli; Yuri Suzuki, sound artist and designer and Design Ventura 2021-22 brief setter; Sebastian Conran, designer and trustee at the Design Museum; Preena Patel, buying and merchandising manager at the Design Museum; and Christoph Woermann, chief marketing officer of corporate bank marketing at Deutsche Bank.
designmuseumshop.com (opens in new tab)
batch.works (opens in new tab); tripledoublestudio.com (opens in new tab); ventura.designmuseum.org (opens in new tab)
Martha Elliott is the Junior Digital News Editor at Wallpaper*. After graduating from university she worked in arts-based behavioural therapy, then embarked on a career in journalism, joining Wallpaper* at the start of 2022. She reports on art, design and architecture, as well as covering regular news stories across all channels.
With contributions from