Escape with the Wallpaper* Travel Issue, June 2023
The June 2023 Wallpaper* Travel Issue is on newsstands now: discover great escapes from Mumbai to Mozambique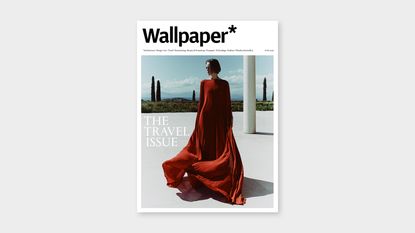 (Image credit: Melanie + Ramon)
Welcome to the Travel Issue! As a global brand, we at Wallpaper* cherish the life-affirming power of travel to enrich, inspire and connect our communities. Our team of international correspondents comb every corner of the world to bring you the best and most interesting travel stories, with expert local insights, as seen through the Wallpaper* lens.
For this issue, we put travel in the spotlight, starting with two extended features from our award-winning 'The Trip' series. First we jet off to the groundbreaking Kisawa Sanctuary, Nina Flohr's ambitious 'resort-to-research' hotel, located on an island off the coast of southern Mozambique. The resort is also behind Africa's first permanent ocean observatory dedicated to multi-ecosystem research. 'What interested me in Mozambique was that I could do something interesting from a hospitality and design point of view that incorporated marine wildlife and the ocean rather than a terrestrial landscape,' says Flohr. 'We are trying to create a 21st century luxury understanding of nature and the environment, and how to live within it rather than against it.'
For our second Trip story this month, we head to Mumbai, which recently hosted Dior's Pre-Fall 2023 show, proof that this effervescent city with an illustrious heritage is increasingly becoming a player on the world stage. The city has always been the creative heart of India, for fashion, architecture and film, and a new generation are ensuring its future by focusing on preservation, conservation and collaboration.
We also pay a visit to the new Ibiza retreat of prolific Mexican artist Stefan Brüggemann; a suntrap holiday home in South Korea by Studio Weave; and a villa in Barbados by local practice Elements Architecture; as well as bringing you our favourite matching luggage sets and the latest fashion – photographed at the Ed Tuttle-designed Amanzoe resort on Greece's Peloponnese peninsula – to ensure you can travel and arrive in style.
And finally, to satisfy our hunger after all that travelling, we stopped by Birley Bakery, Robin Birley's exquisite patisserie in London's Chelsea, to cool off with executive pastry chef Vincent Zanardi's elegant riff on the classic Magnum. Bon voyage!
Sarah Douglas
Editor-in-Chief
The June 2023 issue of Wallpaper* is available in print from 11 May, on the Wallpaper* app on Apple iOS, and to subscribers of Apple News +. Subscribe to Wallpaper* today
Sarah Douglas is Editor-in-Chief for Wallpaper*, where she is responsible for the content across the print magazine, digital platforms, in-house creative agency Bespoke, brand partnerships, and events. Joining Wallpaper* in 2007 as Art Editor, Sarah became Creative Director in 2012, before being named Editor-in-Chief in 2017. During this time she has commissioned an array of illustrious artists and designers including Jean Nouvel, Yayoi Kusama, Tom Sachs, Nendo, Virgil Abloh and Jenny Holzer; championed talents such as Formafantasma, Sabine Marcelis, Martino Gamper, Bethan Laura Wood, Philippe Malouin, and Craig Green; and overseen partnerships with leading brands including B&B Italia, Prada and Rolex. Sarah is also a member of the judging panel for the London Design Medal, and regularly judges for international design competitions.