These sustainable fake flowers are works of art
Danish design company Reevein Studios creates gallery-worthy fake flowers from recycled materials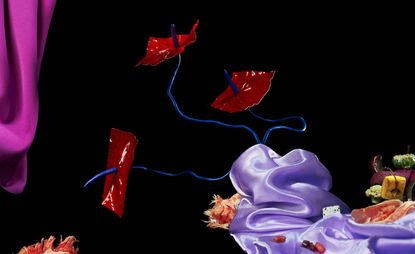 (Image credit: Cennon at Mav)
The ephemerality of flowers can be part of their appeal – you know they'll be gone soon, so you treasure their presence while they are there. But these days, buying something only to throw it away in a few days can seem unnecessarily wasteful, no matter how beautiful it is. At least, that's what Sara Rosa Oppermann and Alice Soro Cilliara were thinking when they launched their first collection of fake flowers in 2021.
On paper, they are an unconventional pair to be shaking up the floral industry. Before starting Reevein Studios, Oppermann was working in PR and advertising with a side gig as a painter, while Cilliara was a sommelier and also makes wigs for the Malmo Opera in Sweden.
It was while doing research for an advertising project that Oppermann first began to understand the vast amounts of waste produced by the floral industry, with the average lifespan of a freshly cut flower being a maximum of 15 days from field to trash. But the common solution – faux flowers – left her feeling uninspired.
'Flowers have such strong emotional and symbolic meanings that just can't be copied,' says Oppermann. 'I think I never felt an emotional connection to fake flowers because they were trying to look like a copy of nature. On the other hand, if I looked at a painting of a flower, I could still feel that emotional pull. I found that very interesting and it got me thinking about how I could combine art, flowers, symbolic meaning and sustainable design into something entirely new.'
The result was floral sculptures rendered in blatantly artificial colours and textures, made from recycled scrap materials including branches and cotton threads. The studio's latest collection is a tribute to the anthurium flower – traditionally a symbol of hospitality, long-lasting love, and friendship – that is made from 70 per cent recycled plastic bottles and tapioca flour. The sculptures represent the first capsule launch of what will be a full range of more affordable stems, with new designs launching on the third of every month.
'Our designs are a bit rougher and not super romantic,' say Oppermann and Cilliara. 'We have a bit more of a biological approach and get very inspired by the anatomy of flowers, and the anatomy of humans, and the many striking similarities that exist between them. For instance, in the new anthurium design and earlier designs, the flower veins are very visible, just as the blood veins of humans.'
'We believe that flowers are an art form,' they continue. 'Our hope is to make people aware that cut flowers are a delicate luxury, and we do still love flowers ourselves, we just buy a little fewer than we used to.'
INFORMATION
reevein.com (opens in new tab)
Mary Cleary is the Beauty & Grooming Editor of Wallpaper*. Having been with the brand since 2017, she became an editor in February 2020 with the launch of the brand's new beauty & grooming channel. Her work seeks to offer a new perspective on beauty, focusing on the pioneering personalities, product designs, and transformative trends within the industry.