Pop-up art gallery reimagines the bathhouse with Malin + Goetz
Join a dialogue about Asian identity and art in a bathhouse-inspired gallery, complete with Malin + Goetz skincare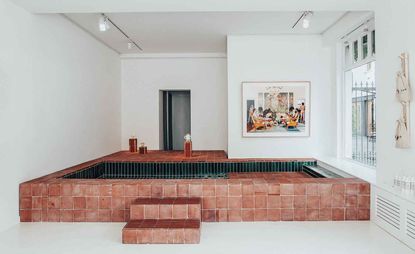 (Image credit: Taran Wilkhu)
A pop-up art gallery in London's Notting Hill (open until 30 October 2021) takes on the aesthetics and ambiance of an Asian bathhouse to explore the intersection between Asian identity and feminism. It's a chance to view art in relaxed and welcoming surroundings and, with the project supported by Malin + Goetz, skincare is part of the experience.
'Zao Tang' is the result of a collaboration between art and design studio Local Collective and multidisciplinary art practice Stigma to showcase new and recent works by a diverse line-up of six emerging and established East and Southeast Asian artists, through a range of media. The exhibition is both intimate and social, drifting away from the traditional art viewing to an immersive cultural experience.
'We want to use the immersive art-viewing experience to activate community kinships through the physicalisation of social exchange,' say Stigma co-founders Shutian Zhou and Cong Ding.
While no water is involved – the bath is not filled, serving instead as a social gathering space – the gallery mimics the bathing ritual in Asian bathhouses.
Visitors are invited first to 'cleanse the self', metaphorically 'washing off' pre-conceptions and everyday concerns by viewing artist Victoria Pham's video portrait, Cô Gái Màu Đỏ, which explores and discusses colonised cultural heritage, and Stigma's pseudo-fictional narrative Letters to Mr Tadpole, inspired by China's former one-child policy.
As visitors go on to explore other artworks in the space – by Ayumi Kajiwara, Hannah Lim, Yushi Li, and Youngsook Choi – the opportunity to try a range of Malin + Goetz products, such as its Bergamot Hand + Body Wash, and Vitamin b5 Hand Treatment, both infused with the brand's signature soothing bergamot scent, reinforces the emphasis on a relaxed and low-key experience.
The featured artists, says Local Collective founder Lisa Chan, were selected 'to present a connective strength that speaks about the identity of Asian feminism, provide assurance to under-represented members of Asian communities of London, and invite all members to join in and celebrate cultural diversity'.
While viewers connect with the artworks, the exhibition is hoping to provoke thoughts such as 'What does it mean to be an Asian woman?'
You can join the conversation at this bathhouse-inspired gallery, supported by Arts Council England, on view until 8pm 30 October 2021.
INFORMATION
Zao Tang pop-up gallery, open 11am – 8 pm, until 30 October 2021
ADDRESS
230 Portobello Road, London, W11 1LJ
VIEW GOOGLE MAPS (opens in new tab)