Explore the artistry of Prada's hair stylist, Guido Palau
The mind behind some of fashion's most memorable hairstyles–from the runways of Balenciaga, Valentino to Prada–has just launched a book showcasing the behind-the-scenes art of his practice.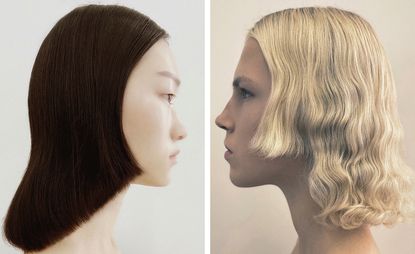 (Image credit: Hair stylist: Guido Palau)
'For me, this is primarily a sketchbook of ideas, and the young models I worked with were willing to be the beginning part of that sketch,' says Guido Palau about his new book #Hairtests, out 4 December. 'My imagination was fuelled by their hair. The impulse was to create characters in a purely instinctive way.'
Indeed, Palau has made a career out of constructing characters through hair. His distinctive, peculiar styles have made him go-to hairstylist for Prada, as well Balenciaga, Valentino, and more.
#Hairtests is a collection of Palau's own iPhone photographs, taken from behind-the-scenes of these shows and more. They are straight-forward photographs, with the single aim of capturing the artistry of the hairstyles from Palau, who made his name stlying 90s fashion icons such as Naomi Campbell, Linda Evangelista, and Tatjana Patitz.
Inside #Hairtests
In Palau's hands, the profile shots of fashion's idiosyncratic beauties become cooly minimal documentations of today's anti-perfectionist, self-expressionistic beauty standards. 'Studying the models, I was trying to capture their essence,' says Palau. 'Their features, often angular and unconventional, begged many questions: Are they awkward, geeky, rebellious or anarchic? What I do is often only one squirt away from disappearing. As soon as you put water on it, it's gone, so, often, I only had seconds to capture that character.'

His grainy iPhone images are like modern reinterpretations of Piero della Francesca or Fra Filippo Lippi, and their depictions of Renaissance noblemen and women, with their regal domineer and sculpted braids or angular bowl-cuts (styles Palau himself has become well-known for).
As Palau puts it: 'The images present an artist's rendering, a visual journal of characters. It's not about the photograph per se. I simply recorded the results on my phone. I am not a photographer, but just like everyone else in the world, I have this device, like an extension of my hand, which records what is in front of me.'
#Hairtests is a worthy addition to the library of any fashion devotee or hair aficionado, enabling you to sneak a backstage look at one of the industry's most celebrated artists. It is also a fascinating testament to the transformative power of hair.
'I'm forever in love with how people can change themselves with their hair,' says Palau. 'This is a really exciting time because the boundaries of beauty have really broken down. Everyone is beautiful in their own way. I hope this book captures that.'
INFORMATION
Mary Cleary is the Beauty & Grooming Editor of Wallpaper*. Having been with the brand since 2017, she became an editor in February 2020 with the launch of the brand's new beauty & grooming channel. Her work seeks to offer a new perspective on beauty, focusing on the pioneering personalities, product designs, and transformative trends within the industry.