Barbican Conservatory's definitive guide on how to care for indoor plants
The Barbican Conservatory's head gardener Marta Lowcewicz offers expert advice on how to maintain indoor plants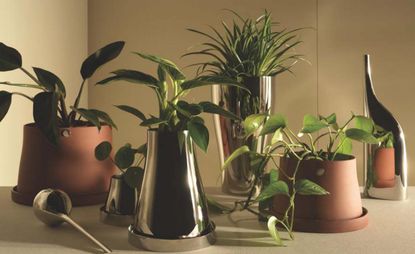 (Image credit: Photography by Adam Barclay)
The Barbican Conservatory is a botanical oasis in the heart of a brutalist behemoth, boasting 1,500 species of plants and trees housed within its concrete and glass walls. For that reason, the Barbican's head gardener, Marta Lowcewicz, is perhaps one of the most reliable sources you could find for advice on indoor plant care. Here, she shares her definitive guide to houseplant health, covering everything from how to plant a cutting to where to find the best botanical bargains.
Marta Lowcewicz on caring for indoor plants:
Stick to the basics
Houseplants need nutrients, light, and water. How much of each of these they need will differ from plant to plant, but if you notice that your plant, whatever it is, might not be looking too happy, try giving it more/less light or more/less water before trying anything else. It's usually one of these!
Know your environment
There is a houseplant for everyone. Whether your home is shady, or usually in bright sunlight, whether you like it warmer or cooler, and whether you live in a humid or dryer place, there will be a plant that can thrive in this environment and researching them is easy enough. More on this later!
Try to keep to a routine (with flexibility)
Looking after houseplants can be difficult if you're time-poor, especially if you have a lot of them (like me… 70 and counting, and that's a lot less than some of my Barbican Conservatory colleagues!). It doesn't need to be difficult. Routines can be flexible when it comes to watering, repotting, or feeding, but my advice would be 'You can delay until tomorrow, but probably don't delay until next week'.
There is lots of advice online, if you know where to look
With the surge in interest in botany and horticulture over the last few years, the amount of information online can seem extensive. The Royal Horticultural Society website is a great place to begin. The information is simple, clear and they are very good at advising treatments for disease or pests if your plant is looking unwell, or if attempts to adjust water and light haven't helped. Try to avoid pages with conflicting information, as well as websites based abroad – they will usually be giving advice for different planting conditions to your own.
Feeding and repotting are worthwhile
To get the best results from your houseplants, it can't hurt to feed them. Most garden centres will sell houseplant feed, or you can order it online. Simply follow the instructions on the package. As for potting plants – this is also a good thing to get into the habit of. There are three different types, broadly speaking:
Some houseplants, like Ficuses, and shrubs, can also benefit from pruning in late winter/early spring. This will take back some foliage to keep the plant looking healthy, keeping its size under control, as well as encouraging more new growth come late spring. Always check to see whether your plant can be pruned, though, before diving in with your secateurs (or kitchen scissors!)
Plants usually come back, with the right care
If your plant is looking sad, there are lots of things that can be done to address this. Sometimes it might just be down to the time of year. Around September time, plants might be beginning to slow down, to hibernate over the winter before coming back bigger and better next year. You should expect to see plants looking a bit droopier in the autumn, but generally speaking, this is nothing to worry about. They are hardier than you might think, with the right attention and care.
Botanical bargains
If you are prepared to take your time (which is, I think, part of the enjoyment of gardening and plants), then buy small, and grow them over a number of years. You will pay a premium for plants that are already large – so bear this in mind. Growing a plant from small to large is very rewarding. The clearance shelves and sale sections of garden centres are also good places to look. Usually speaking they can be brought back to a healthy, attractive state again.
The same goes for orchids in supermarkets. I have lots of sale orchids (and their pots!) that I've bought over the years for under a fiver. As well as plants, you can get some absolutely incredible deals on horticultural books in charity shops. Be persistent as they won't always be there, but older books (like a lovely Alan Titchmarsh number I have from the 1980s that cost 50p), tend to be so much more detailed and useful than any of the modern books I've bought over the years. They might look less coffee table-friendly but they're worth their weight in gold!
Plant swaps
Another way to get hold of new plants is to buy a selection with some friends and swap cuttings. Just be mindful that sharing cuttings also means you might be sharing diseases or pests – so try to (sensitively) ask your friends if they are aware of anything like this before introducing them to your own collection.
How to manage space
Once bitten by the houseplant bug, it's very easy to begin accumulating more than you have space for. A handy way to solve this is to think about different places they can go, and different approaches. Some plants look great on the floor, and hanging plants look fantastic too – especially trailing plants. Many garden centres are now selling very nice hanging pots.
There is a plant for everyone
Finally, it's important to say that whatever your situation, whatever your diary is like, whatever your level of knowledge, there is a plant for you – do your research, take it slowly, don't be overwhelmed and you will have years of enjoyment and a home full of beautiful, interesting, and healthy plants. Remember, this should be fun!
INFORMATION
barbican.org.uk (opens in new tab)
Mary Cleary is the Beauty & Grooming Editor of Wallpaper*. Having been with the brand since 2017, she became an editor in February 2020 with the launch of the brand's new beauty & grooming channel. Her work seeks to offer a new perspective on beauty, focusing on the pioneering personalities, product designs, and transformative trends within the industry.