Aeir is using Nasa technology to create the fragrance of the future
Aeir is a new fragrance and wellness brand that blends Nasa technology with zero extraction, bioengineering and generations-old craftsmanship.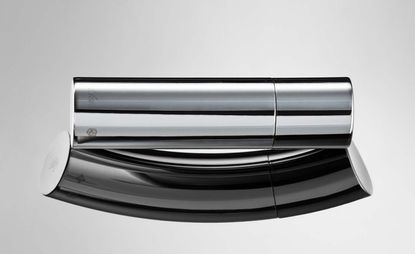 (Image credit: Courtesy of Aeir)
Wallpaper* Newsletter
Receive our daily digest of inspiration, escapism and design stories from around the world direct to your inbox
Thank you for signing up to Wallpaper. You will receive a verification email shortly.
There was a problem. Please refresh the page and try again.
Aeir: the backstory
Aeir co-founders Enrico Pietra and Rodrigo Caula met studying at École Cantonale d'Art de Lausanne (ECAL), the hard-to-get-into 'university of luxury' in Switzerland. While there, they worked directly with masters in different maisons gaining insight into generations-old crafts, or 'codes of luxury', says Caula, from the saddle makers at Hermès to the champagne producers at Ruinart, and Murano glass experts in Italy.

After graduating, Canada-born Caula joined Tesla running its Sustainability & Biomaterials Strategy and later joined Yeezy as director of Innovation & Sustainability. Italy-born Pietra stayed on in Lausanne, joining the University faculty and collaborating with brands including Chopard and Hermès.
When the pandemic hit in 2020 Pietra and Caula were, like many people, forced to take some introspective time out. We thought, 'What do we want to spend the rest of our lives doing?' says Caula. They began developing their own first product, Aeir. 'It was never only about fragrance, it was about finding something that made us feel good,' he says.
Zero extraction fragrance: what and why
For the pair, feeling good meant creating a gender-inclusive fragrance with the lowest carbon footprint possible. To do it, they used ethanol that sequesters CO2 (a brand-new revolutionary process) and developed fully recyclable packaging for starters.
Unlike traditional fragrances, which rely on naturally occurring ingredients to produce a scent, Aeir is entirely lab-made, thus 'protecting the environment from high-intensity agriculture and extraction processing', they say.
'I think the best analogy would be Palo Santo. To get Palo Santo, you've got to chop down and extract wood from a fully matured tree that's perhaps 70 years old,' explains Pietra. 'Only at this age is the tree mature enough to produce the oils that give it its scent profile. We wanted to see if by using biology and biotechnology we could achieve the same scent profile without having to actually cut down a tree.'
Olfactory memories for the future
They hired a biochemist with access to a library of notes to oversee the formulations to which ethanol is mixed (rather than heavy water as in 'Eau de' parfums, as this is heavy to ship). Their brief to the perfumer? 'Imagine landing on Mars and being one of 120 people selected to build a new civilisation,' says Caula. 'Your first memory would be of home.'
The thought occurred to him while he was sitting in the captain's seat of a stationary SpaceX spaceship while working at Tesla. 'An ocean, the desert, the breeze, your fresh sheets.' These very personal, deep-rooted memories inspired the four scents of Wet Stone (a mineral scent, smokey talc and violet); Grand Rose (floral with cotton and pink pepper); Suede (leather, bergamot, and velvet plum) and Virgin Olive (oak, terracotta and sweet cannabis).
Consciously packaged
Avoiding any inks, dyes and adhesive, the all-white packaging (developed in Italy, produced in the US) is embossed with information. Using only the pure, undiluted scent means the containers can be kept smaller and shipping costs low. The refillable aluminum case is (in its small Aeir Mini and larger but still travel-friendly size) anodised for longer-lasting use.
The 'more silver than silver' coating is achieved via a process – originally developed by Nasa to protect parts in outer space – known as PVD, or photo vapour deposition, of shooting metal into a vacuum that then molecularly bonds to the surface. Not only does it create an ultra-sleek aesthetic, but this zero-waste process also eliminates the risk of microplastics.
NFC or near field communication technology, embedded in beautiful heavyweight paper, triggers a tab on my phone to pop up, which will navigate users to Aeir.com, where they can 'unlock' product, receive Aeir Mail or update their annual subscription or singular purchase in Aeir Wallet. 'It's really designed for the new type of consumer,' says Pietra.
Aeir of the future
'In the future, we hope to create an eco-system of products that still share the same ethos, moving towards zero extraction in as many categories as possible, recycled materials, bio-engineered materials, bio-fabricated materials, even clothing, to be able to engineer fibres,' shares Caula.
Pietra adds, 'For us, it's very important to think about inspiring a happy future, for things to be positive. There is no dystopian future. We have the responsibility as designers to protect and to design. To design is to solve problems, not to create more problems.'
INFORMATION
Receive our daily digest of inspiration, escapism and design stories from around the world direct to your inbox
Tilly is a British writer, editor and digital consultant based in New York, covering luxury fashion, jewellery, design, culture, art, travel, wellness and more. An alumna of Central Saint Martins, she is Contributing Editor for Wallpaper* and has interviewed a cross section of design legends including Sir David Adjaye, Samuel Ross, Pamela Shamshiri and Piet Oudolf for the magazine.