Townhouse takeout: Fort Gansevoort serves up art with a side of BBQ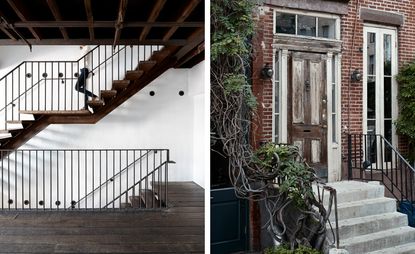 (Image credit: TBC)
Opened last month in New York's gentrified Meatpacking District, Fort Gansevoort is a new gallery, shopping and dining destination that occupies a red brick, Greek Revival row house built in 1849 on Gansevoort Plaza.

The new hybrid gallery model, which plans to house an ever-changing roster of creative tenants across its three storeys, is the brainchild of New York-based curator and art advisor Adam Shopkorn. '5 Ninth Avenue has sat idle without a tenant for close to two years now, and I never understood why a building would be vacant in such an in-demand neighbourhood,' says Shopkorn, whose new venture counts the High Line and the Standard Hotel among its neighbours. 'I wanted to clean up the building, and provide it with some love and care. The space is really all about collaboration. I think the last thing New York needs is another traditional gallery.'

Sympathetically restored with plenty of original features on show, the building's top two floors are given over to the Gallery, which is currently hosting a series of 40 small-scale ink drawings by celebrated Bronx-based graffiti artist CES as part of its inaugural exhibition 'That's My Name Talking'.

Meanwhile, an ongoing rotation of florists, jewellery designers, rare book dealers, record sellers, coffee makers and bakers will occupy retail posts set up around the building's original small, medium and large bar areas – relics from its past incarnation as a dining establishment.

At street level, a takeout window located on the Little West 12th Street side of the building in the exterior courtyard will serve up barbecue food by a cross-section of emerging and world renowned pitmasters, as part of a barbecue residency programme. Each pit master will bring their own personal recipes and hometown flavours to the Fort Gansevoort BBQ while sourcing their ingredients from the neighbourhood's few remaining local meatpackers.
ADDRESS
Fort Gansevoort
5 Ninth Avenue (Gansevoort Street)
New York, NY 1001
VIEW GOOGLE MAPS (opens in new tab)