Toby Paterson: Consensus and Collapse, Edinburgh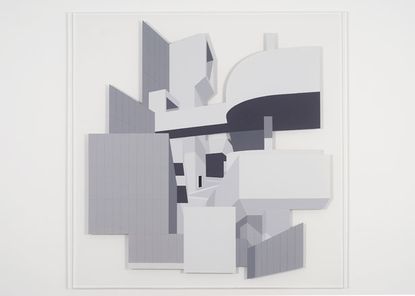 (Image credit: Toby Paterson)
A maze of images of modernist buildings, idealised structures and architectural fragments in a specially created installation for the Fruitmarket Gallery, cleverly shows the extraordinary relationship that artist, Toby Paterson, has to the built environment.
'Many people approach my work as if the "subject" of the work is architecture. It's not really. Architecture is just an excuse to look,' says the Glasgow-based artist. This might seem cryptic for someone whose oeuvre is filled with images of recognisable structures like those by 1960s firm Gillespie, Kidd & Coia. But Paterson's buildings are strangely removed from their context and, while some read as architecture, others are merely abstract forms.
Negotiating your way around Paterson's ground-floor installation at the exhibition is a dizzying experience, in which his drawings, photographs, paintings and sculpted reliefs are displayed on a series of suspended frames. The whirl of colourful planes and dislocated forms show that it's not so much the architecture that compels the artist but the visual and tonal possibilities it represents.
The exhibition looks back at Paterson's work over the last ten years, which includes public commissions like his 'Powder Blue Orthogonal Pavilion' - part of the Portavilion project in London. The upper gallery is a more light-filled, open space with a series of painted panels on show resembling sculpted concrete exterior walls.
Paterson's work is strangely emotive considering its absence of mark-making and brushstrokes. There's also a strong sense of his own alienation from the structures he depicts. 'I think from a very early age, discounting a domestic context, I felt like I was outside any given situation looking in,' he explains. 'I think that is why I hardly ever seem to work with images of interiors. It is always outside, incidental things encountered in the street, until I actually get a space I can have control over - the gallery.'
ADDRESS
The Fruitmarket Gallery
45 Market Street
Edinburgh EH1 1DF