The Tightrope Walker exhibition of art and design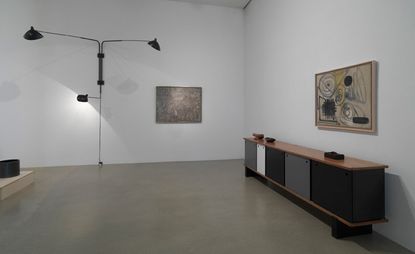 (Image credit: Todd-White)
Timothy Taylor Gallery's new show explores the creative mood of post-war France with a cleverly edited selection of works by artists and designers, including Hans Hartung, Jean Dubuffet, Serge Mouille and Jean Prouvé.
Despite the horrors of the war and inflicted on the city, post-occupation Paris was a hub of designers, philosophers, poets and artists, who were re-evaluating the past and looking at what it meant to be modern. 'There was great unity in France in the 1950s but a huge diversity of ideas,' says curator, Emma Dexter.
Look closer at the works on show at 'The Tightrope Walker' - which borrows its name from a 1958 essay by Jean Genet - and common strands begin to appear, including an urge to celebrate the everyday. Artist Jean Dubuffet's figures - etched onto canvases daubed in sand, dust and gravel - honour ordinary life, and sculptor Germaine Richier's works take their inspiration from native traditions.
Working alongside them were furniture designers who were honing a new utilitarian beauty, in reaction to the grandeur and embellishments of Art Deco. For the exhibition, co-curator Oscar Humphries has pulled together interesting pieces by icons of midcentury modernism, including Charlotte Perriand and Mathieu Matégot. Prouvé's 'Chaise Standard' in steel and beech plywood, exemplifies the period's strikingly economic aesthetic.
But the parallels between the artists and designers span further than aesthetics. Humphries points to artist, Hans Hartung, best known for his series of brush-stroke paintings, whose apparent spontaneity was in fact carefully designed. 'Hartung introduced the idea of factory processes to art,' he says of the German, who later used paint sprayers in his work - 'so, there's an obvious link with Prouvé, who was the first person to introduce factory processes into domestic furniture. Hartung also entered whole-heartedly into the concept of midcentury modernism.'
Other highlights at the exhibition include 'miserabilist' French painter Bernard Buffet's extraordinarily angst ridden, black out-lined figures and - this time, in stark contrast - furniture designer, Mathieu Matégot's diaphanous yet sturdy, perforated metal tables and chairs.
ADDRESS
15 Carlos Place
London W1K 2EX
VIEW GOOGLE MAPS (opens in new tab)