The Royal Academy Summer Exhibition preview party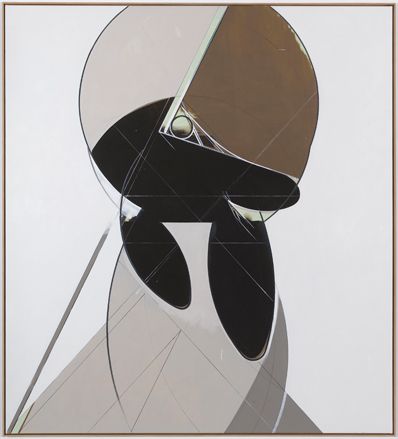 (Image credit: Courtesy of Galerie Gebr. Lehmann, Berlin/Dresden)
Just who wasn't at this year's Royal Academy Summer Exhibition preview party? Fashionistas, models and pop stars mingled with 90-year Royal Academicians, hot-to-trot young artists and Home Counties lawyers. In what is always a quintessentially British affair, paparazzi were buzzing at the entrance to the 250-year-old institution on Piccadilly like a gaggle of excited teenagers, as one famous name after another tumbled out of chauffeur-driven cars.
Inside, the champagne flowed and the canapés were creatively tied to this year's theme of 'Raw' by organizers Tracey Emin and Anya Hindmarch. A 'pick your own' wall of strawberries and cream, and huts filled with mountains of coquillages, charcuterie and elaborate cheeses ensured plentiful snacks, while a band of musicians playing gypsy jazz with a Balkan beat roamed among the 10 gallery spaces like a band of merry minstrels. When it comes to entertaining art parties, the annual RA's summer bash is hard to beat.
But what about the art? In what is the largest open contemporary art show in the world, the gallery walls are crammed with 1,200 new works from unknowns to the likes of Michael Craig-Martin, Ed Ruscha and Gillian Ayers. A series of gloriously eccentric rituals take place before the opening night; 120-odd RA members gather to drink beef tea while sifting through thousands of hopeful entrants for the exhibition, and this is followed by a communal 'varnishing day'. The party is a hot ticket because guests get a chance to snap up works before the official Buyers Day -- which explains why, before the party's hardly started, there is a sea of red stickers in the Weston Rooms, where pieces by lesser known names with £100 starting price are crammed on the walls.
This year, Fiona Rae RA was invited to curate the 'special room' within the gallery. She chose artists 'who conjure up fantasy worlds or fictional spaces, with a strong sense of the abstract' - among them Gary Webb, Martin Maloney, Richard Patterson and George Condo (whose piece the Butcher the Maid and the Master of the House was rumoured to have been bought by Alexa Chung). The RA is entirely self-funded, so all the proceeds from the show go to the gallery's school and exhibitions programme.
'We had so many submissions this year,' says David Chipperfield, who curated this year's architecture gallery 'that I had to whittle it down by two thirds. 'I felt it would be unfair to put my own work in there too,' he quipped. Rarely do architectural models get such a glamorous airing; Yasmin Le Bon glided among mock-ups and models from Shigeru Ban, Eric Parry and RA president Nicholas Grimshaw, waxing lyrical about Giles Deacon, who had designed her fabulous full length dress (he's a talented, good-looking, straight man who loves fashion -- what's not to love?); while rock and pop icons such as Holly Johnson, Dave Gilmour and almost all members of Duran Duran mingled with Grayson Perry, whose naked calves and heels gave model Poppy Delevigne a run for her money.
'The summer exhibition has been going every year since it opened in 1768, and even during the war years, it never closed,' explained RA and painter Anthony Whishaw, who was sporting his gold academicians medal, which features George IV. 'I wouldn't mind one of those,' confessed 2004 Turner Prize winner Jeremy Deller at the post-party gala dinner while Grimshaw was busy toasting the Queen, and Emin raising a glass to 'honour and trust'.
Such pomp and ceremony have led the RA to be come the venerable British institution that is it today, but it also has a reputation for being a little - dare we say it - fusty. But with Emin and Hindmarch as co-chairs and young bloods such as Conrad Shawcross on the board, it's rapidly refreshing its image. As Emin explained 'the show is cool and much more chic this year, and it's great to see the work being sold, as students are grateful for every penny they can get.'
Emma O'Kelly is a contributing editor at Wallpaper*. She joined the magazine on issue 4 as news editor and since since then has worked in full and part time roles across many editorial departments. She is a freelance journalist based in London and works for a range of titles from Condé Nast Traveller to The Telegraph. She is currently working on a book about Scandinavian sauna culture and is renovating a mid century house in the Italian Lakes.