Space invaders: Rise Projects uses colour and creativity to take over Notting Hill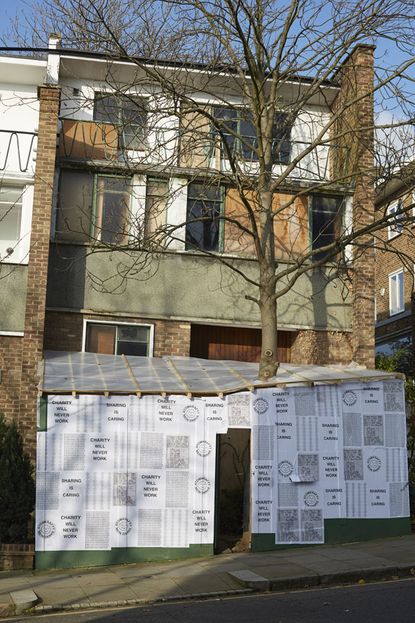 (Image credit: TBC)
Ask a Londoner what they think of Holland Park and, chances are, you will be painted a portrait of grandeur and greenery. Lovely, certainly, but this corner of Kensington is not known for its trailblazing townsfolk.

But scratch beneath Holland Park's conservative surface and a new breed of artistic projects start to rear their painted faces. Florence Devereux got the ball rolling in 2012 when she founded the Ladbroke Terrace Collective (opens in new tab), a group who commandeered the transformation of Devereux's family home from plush villa to wild and wacky art residency-turned-gallery in the weeks before the house's sale completed. Since, a number of other projects have sprung up.

Rise Projects, staged by the Silvie Fleming Collection, is a case in point. At the heart of the project is an unassuming, 1950s terraced house, 2 Lansdowne Rise, which has remained virtually untouched since its post-war construction. 'It's a bit of a time warp,' says the collection's director of projects Romilly Stebbings. 'Nothing's changed, from the kitchen to all the radiators.' It is now home to an artistic intervention project that sees the space transformed by various creative incumbents. 'There are remnants of people around the house,' says Stebbings. 'We invite the artists to react to the space around them…there's a bit of a creepy feeling in there, so it's interesting to see what comes out.'

The house was bought by Silka Rittson-Thomas and her husband Hugo (who founded the Silvie Fleming Collection) in 2013. The couple were later told that the building's future was uncertain. (The house had fallen into disrepair when its first and only owner died in 2010.) To make the most of their limited time, they started Rise Projects, giving artists an opportunity to work in an interesting space without the constraints of funding.

So far, there have been four projects. Jennifer Bornstein kicked things off with her 'Printing Project', painting the house's walls in bright blue. Blue became black shortly afterwards, with Karl Holmqvist & Ei Arakawa's 'Sunflower Sutra', followed by NANG's subversive 'Centre di Pompidoo-doo' and 'BOOM!' by Marte Eknaes & Nicolau Vergueiro.

Like palimpsests, the works build like layers in the house, each acting as a piece of history left behind, embedded in the walls and floors. Stebbings agrees: 'All of the artists leave their own imprint. There are elements of each of them after they leave.' That's part of the appeal of the project; while Hugo and Silka always keep one piece from each of the residencies, the impermanence of the projects is something that particularly excites them.

Until the future of the buildings is decided, Number 2 will continue give its neighbours something to talk about.
ADDRESS
Rise Projects
2 Lansdowne Rise
London W11 2NR
VIEW GOOGLE MAPS (opens in new tab)