Sir Peter Blake's dazzle ferry adds a splash of colour to the Mersey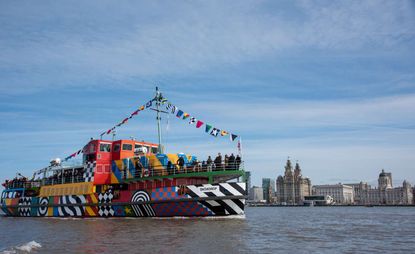 (Image credit: TBC)
Set to the tune of Bill Haley's Everybody Razzle Dazzle, Sir Peter Blake's dazzle ferry made its maiden voyage across the Mersey this morning.

The public event - the Sargent Pepper cover artist wouldn't have it any other way - marked the official unveiling of the first operational and third overall Dazzle Ship. (The first being another Liverpool-based boat, the static work of Carlos Cruz-Diez, and the second: Tobias Rehberger's Dazzle Ship London on the River Thames.)

Commissioned by 14-18 NOW, the First World War Centenary Art Commission - the same body behind the Tower of London's poignant poppies - the Liverpool Biennial and Tate Liverpool, the dazzle ships pay homage to the artists of the war and their life-saving duties by reviving the practice of 'dazzling' ships with camouflage. Rather than making the ships blend into the background as the notion of 'camouflaging' would suggest, the idea was that the optical illusion created by the different shapes and colours would make the boat's distance, direction, speed and general structure harder to read, and therefore attack. This practice is well documented aboard the Snowdrop, the Mersey Ferry dazzled by Blake. It will don its new colourful livery for the next two years, bringing a splash of colour to the famous river.

The British pop artist has long links with the port city, dating back to his military service in 1952 and spanning across a long and illustrious artistic career, too. This latest work - his largest to date - embodying his motto of making art accessible to all better than ever before. 'That is what my original definition of pop art was,' Blake told Wallpaper* aboard the ferry, 'an art that you would understand like you would understand pop music.'

And relatable art this is. There is even a viewing platform at the Tate overlooking the Mersey which allows museum-goers the opportunity to enjoy the daily wanderings of the dazzle ferry from the confines of the museum: art in motion, art for all.

Looking around the sea of faces who attended the unveiling - the artist and the boat painters included - the excitement and significance of this project is clear to see. Blake's fear of a few diehards feeling the Snowdrop's original livery has been 'ruined' by his design utterly laid to rest.