Selfridges window installation by Kyle Bean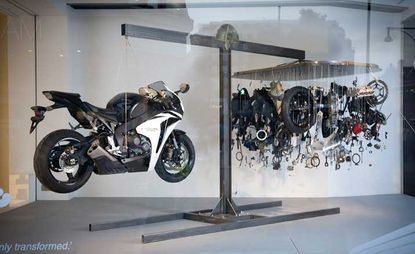 (Image credit: TBC)
For a department store known for selling the newest in fashion, design and gadgets, Selfridges' latest window display is something of a surprise. Suspended from giant weighing scales in the 'Wonder room' is a dismantled Honda Fireblade motorcycle, complete with dangling wires.
Created by young designer, Kyle Bean, of multidisciplinary agency, Blinkart, the installation in the London store is balanced by a perfectly intact version of the same bike. One of a series of works in the windows by Bean, it's inspired by the scientific theory that 'matter cannot be created or destroyed, only transformed'.
Elsewhere, the designer - known for his extraordinarily detailed, handmade models for department stores, magazines and brands like Diet Coke - has transformed three fairytale books into an intricate sculpture of a castle. And in another window, there's a cardboard box suspended beside an office chair that has been immaculately sculpted from the same material.
Bean's window displays at Selfridges will be on show until 1st September. The designer and his team installed the motorcycle parts as a live art performance.