Sean Scully takes up residence in Picasso's former studio at Château de Boisgeloup
The Irish artist's gestural paintings and stacked sculptures preside over the 18th-century estate in Normandy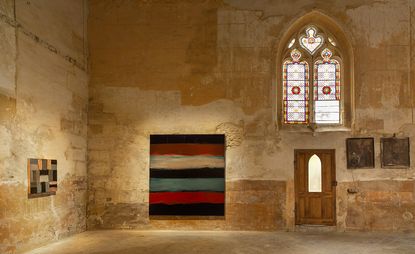 (Image credit: © Sean Scully. Photography: Ana Drittanti. Courtesy of the artist and Almine Rech)
'I'm the Donald Trump of the art world,' Sean Scully jokingly declared in the BBC documentary released in April this year about his art and life as one of the world's wealthiest living artists, in which he jets around the world on his private jet. Excessive wealth and a lavish lifestyle are only some of the things the Irish-born abstract painter shares with the late Pablo Picasso – who preferred to use a Hispano-Suiza limousine to gad about in.
Now, they're also sharing a work space, as Scully takes over the late Spanish artist's famous former Normandy studio at Château de Boisgeloup where he has installed a dozen new paintings for a month-long exhibition, titled 'Celtique' and presented by Almine Rech gallery. Founder Almine Rech Ruiz-Picasso has worked with the Ruiz-Picasso family since 2012 to bring artists to Boisgeloup and exhibit across the 20,000 acre site and grounds, which include a 13th-century chapel. The exhibition with Scully, the gallery explains, is the most ambitious they've attempted yet – and for fans of Scully's signature abstract sculptures, installations and paintings, it's also a show of surprises.

Boisgeloup was particularly important in Picasso's development as an artist — in this idyllic rural setting, Picasso began to work in a more abstract style, eventually creating some of the most revered works of his later career there. But Boisgeloup was also a family home, where Picasso spent time with his son, Paulo, first wife Olga, his mother, and friends including novelist Gertrude Stein who visited often. When Picasso bought Boisgeloup he had told both his wife and his 17-year-old lover Marie-Therese Walter that it was for them. After the weekend, when his wife and son returned to Paris, he would secretly spend the week with Walter, and created a vast number of portraits inspired by her there.
RELATED STORY
The personal dramas and private moments that took place over the years at Boisgeloup piqued Scully's interest and are explored in some of his new works, which move away from abstraction and towards figuration. Scully started to venture towards the latter only recently, and here he presents unexpectedly tender portraits of his 9-year-old son, Oisin, and two versions of the Madonna, completed this year, and of his wife, the artist Liliane Tomasko, installed in the chapel. They are distinct from Scully's usual works in theme, but with unmistakable touches of his colour and line.

Boisgeloup gave the previously city-dwelling Picasso the space to go large – another quality he shares with Scully, who is know for his monumental creations. A towering ten-foot aluminium stacked sculpture on the château's lawn is more typical of Scully's work to date, but provides a contrast with the intimacy of the paintings, the setting and history of Boisgeloup ideal for the artist to show his softer, more vulnerable side.
INFORMATION
'Celtique', until 17 November. alminerech.com (opens in new tab)
Charlotte Jansen is a journalist and the author of two books on photography, Girl on Girl (2017) and Photography Now (2021). She is commissioning editor at Elephant magazine and has written on contemporary art and culture for The Guardian, the Financial Times, ELLE, the British Journal of Photography, Frieze and Artsy. Jansen is also presenter of Dior Talks podcast series, The Female Gaze.