Into the wild: Robert Dallet's big cat drawings go on show, thanks to Hermès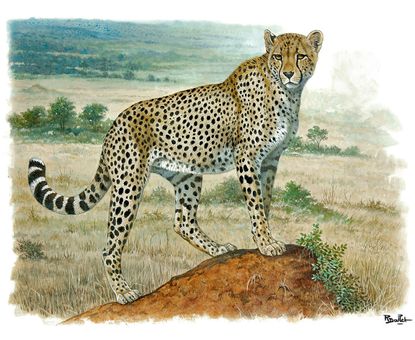 (Image credit: TBC)
The French artist Robert Dallet had little by way of work-life separation. From a very early age through to the end of his life, his muse was the big cat – those lions, tigers, jaguars, and leopards whose musculature and elusiveness were not easy to capture on a canvas – and he would draw them incessantly. Though his mastery of the subject is plainly evident, when he died in 2006, he was still relatively unknown, having lived a modest life as a freelance illustrator.

Now, a decade after his death, with an exhibition at Connecticut's Bruce Museum, Dallet's body of work is the subject of robust attention, and, in the process, his legacy has shifted from a relatively obscure artist with a niche focus to a well-funded champion of wild cat conservation.

Organized by Hermès, in partnership with Panthera, an alliance committed to conserving wild cats, the exhibition, 'Fierce and Fragile: Big Cats in the Art of Robert Dallet', will travel to museums around the world, across China, Europe, and the Middle East, raising awareness of the existential threats to cat species and raising funds to conserve those that have endured.

Twenty-five years ago, Dallet collaborated with Hermès on illustrations to be used on scarves, and, in that process, established a close personal relationship with company executives, including the now creative director Pierre-Alexis Dumas. 'This exhibition is an homage to Dallet,' Dumas explained. 'He was completely dedicated to his work – to nature and to these animals.'

The initiative dovetails with Hermès' 2016 creative direction, 'Nature at Full Gallop', which will see its collections take a close look at the idea of nature. For Dumas, Dallet serves as an invaluable example. 'He has a capacity to bring empathy in us – to remind us what makes us human,' Dumas reflected. Proceeds from a scarf to be sold in all Hermès stores, featuring a Dallet illustration, will go to Panthera's conservation efforts.

During a gallery walk-through, Dumas pointed out one of the sobering realities that Dallet had to face toward the end of his life: 'A lot of the animals that he loved and had been drawing for so many years were just gone.' The hope underlying the exhibition is that his work will help slow – and ultimately reverse – that gradual extinction.
INFORMATION
'Fierce and Fragile: Big Cats in the Art of Robert Dallet' is on view until 13 March. For more information, visit the Bruce Museum's website (opens in new tab)
ADDRESS
Bruce Museum of Arts & Science
1 Museum Drive
Greenwich, Connecticut
VIEW GOOGLE MAPS (opens in new tab)