Rick Owens: New Work, London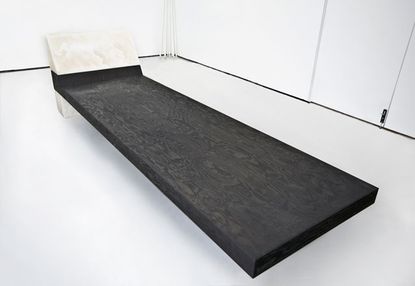 (Image credit: Rick Owens)
When fashion designer Rick Owens presented his first collection of furniture back in spring 2010 - in a louche, Gothic Berlin exhibition titled 'To Pop a Boner' - we were struck by its structured, sculptural quality.
It would be tempting to group his latest pieces under that same Gothic mantel; he's used the monochromatic palette and emotional intensity that characterised his work back in Berlin. This time, however, they've been stripped down even further to their bare essentials: black-stained plywood against alabaster displaying no ornamentation but their own natural grain. Each piece - a bibliotheque in wood and alabaster; black plywood 'Half Box' chairs; and a daybed in bronze, wood, and alabaster - is deeply personal, customised for his own Parisian lifestyle, bearing his stamp both symbolically and quite literally.
The black-and-white theme - what curator Oscar Humphries calls his 'apocalyptic palette' - is consistent with Owens' approach to fashion. 'I think it fits with the use of contrasting materials, this kind of street culture and high culture, luxury and ready-to-wear,' says Humphries. Like his fashion, his furniture is highly architectural. Indeed this collection is so ambitious, so substantial in terms of scale and material, the various elements had to be constructed in two separate studios in Paris and assembled in London.
'Hybrid furniture,' says Humphries, 'doesn't exist in Rick's vocabulary.' These pieces are functional to the extreme, fit for a Donald Judd or even a Howard Roark. As such the venue, a 'found' space in Mayfair, London, that operates as a garage, is the ideal exhibition space, utilitarian and raw - the perfect juxtaposition.
Meanwhile, Rick Owens, something of a collector himself, has given over his London store to the work of Horst Egon Kalinowski. Working together with RCM Galerie, Owens presents 'Kalinowski', an exhibition of sculptures and reliefs by the German artist, created between 1961 and 2009.
Much of Kalinowski's work employs aged leather, with which he creates enigmatic and often erotically-charged reliefs over wooden boxes. These elemental objects, called 'caisons' and on show until 11 November, exude an unsettling primal force.
Stark, sculptural and a little bit Gothic - you can see why the designer approves.
ADDRESS
17 Brooks Mews
London W1K 4DT