Who's hue: Richard Phillips' digital interpretations of Cy Twombly's last paintings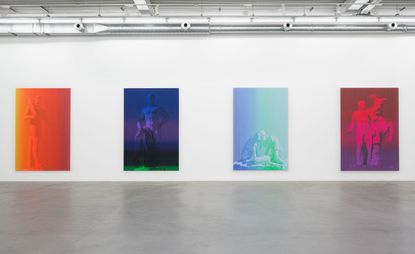 (Image credit: Sven Laurent, The artist and Almine Rech Gallery)
It was seeing old photographs of fascist-era Roman statues commissioned by Italian dictator Benito Mussolini in the early 1930s with the hope that Rome would host the 1944 Summer Olympics (London ended up winning the bid, but the games were cancelled due to World War II) and the 1942 World's Fair – which was also cancelled – that caused artist Richard Phillips to pay a visit to Palazzo della Civiltà and Foro Italico when he was in Rome a few years ago. The artist took photos of the statues with his iPhone for his own reference. 'I realised that there was great potential, and the power of these really decidedly anti-modernist sculptures was an appropriate subject for painting at this moment in time,' said Phillips.
Phillips removed the backgrounds of the images, set the tone in a certain contrast and applied a new method of painting which he had been working on, a departure from the hyperrealist portraits he had become known for. The paintings, along with another series that used Cy Twombly's last paintings as a starting point, are the subject of a recently opened exhibition at Almine Rech Gallery in Brussels.

The artist's new process involves a number of meticulous steps where a digital image is printed on to an adhesive vinyl paper that forms a sticker that gets stuck on the canvas. Then, with a scalpel the vinyl surface is cut. Using shades from a gradient colour study that he created, Phillips then paints another layer, removing the vinyl strips to reveal the unpainted gessoed canvas. Phillips basically works in cycles to removes and apply tape, and additional layers of colour. The result is a work that tricks the viewer into thinking that a print has been applied to the canvas, when it was actually painted by hand.
Phillips used detail shots from catalogues as the starting point for his Cy Twombly series. 'The catalogues for abstract painting, and Cy in particular, they'll do full page bleeds of a portion of the painting that shows the master stroke in order to get you closer to how the paintings really are in scale,' said Phillips, who reconstructed the elements from Twombly's Roman Salalah and Final paintings onto raw gessoed canvases using a similar method as his other paintings. 'They're kind of a memento mori of that final example of masterful expressionist painting in a sense,' said Phillips.
INFORMATION
'Richard Phillips' is on view until 25 Feburary 2017. For more information, visit the Almine Rech Gallery website
ADDRESS
Almine Rech Gallery
Abdijstraat 20
Rue de l'Abbaye
1050 Brussels