Richard Avedon: Murals and Portraits exhibition at Gagosian, New York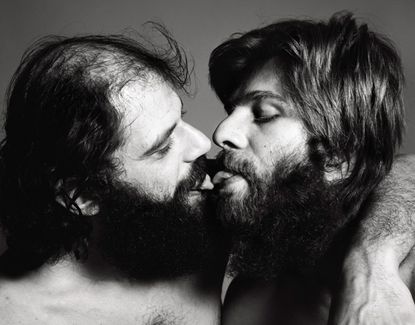 (Image credit: The Richard Avedon Foundation)
Richard Avedon's talent – aside from crisp, high-definition portraits that prefigured the high-res age – was his gift for drawing spectators deep into a personality. It is nearly impossible not to feel a visceral reaction to his subjects, whether the feeling is respect or revulsion. His work elevates the guilty pleasure of people-watching to a high art.

Imagine, then, living within an Avedon print – which is precisely what it feels like to experience Gagosian New York's latest exhibition, for which the gallery has literally been papered with Avedon characters. In Richard Avedon: Murals and Portraits, the Gagosian goes one step further, pulling Avedon's most compelling creatures from the tumultuous 1960s and 1970s, a period when public figures were always either revered or reviled and nothing in between. Everything was black and white.

At the time the murals were unprecedented in scale. Today their power has hardly lessened, despite our having come to expect art with high impact. Avedon's multi-panel murals span between six and 11 metres, executed in his characteristic, high-definition, model-on-white-background style. And his subjects – poets, artists, radicals, even Nixon cronies – deliver. There's Ginsberg scandalising 1960s New York in an embrace with his partner Peter Orlovsky. Vietnam War administrators juxtaposed with American napalm survivors. Abbie Hoffman flipping us the bird.

Interspersed are smaller portraits, no less powerful, that make you feel as if you can read minds - or disturb you that you can't.
'The Mission Council: Hawthorne Q. Mills, Mission Coordinator; Ernest J. Colantonio, Counselor of Embassy for Administrative Affairs; Edward J. Nickel, Minister Counselor for Public Affairs; John E. McGowan, Minister Counselor for Press Affairs; George D. Jacobson, Assistant Chief of Staff, Civil Operations and Rural Development Support; General Creighton W. Abrams, Jr., Commander, United States Military Assistance Command, Vietnam; Ambassador Ellsworth Bunker; Deputy Ambassador Samuel D. Berger; John R. Mossler, Minister and Director, United States Agency for International Development; Charles A. Cooper, Minister Counselor for Economic Affairs; and Laurin B. Askew, Counselor of Embassy for Political Affairs, Saigon, South Vietnam, April 28, 1971,' by Richard Avedon.
'Allen Ginsberg's family: Hannah (Honey) Litzky, aunt; Leo Litzky, uncle; Abe Ginsberg, uncle; Anna Ginsberg, aunt; Louis Ginsberg, father; Eugene Brooks, brother; Allen Ginsberg, poet; Anne Brooks, niece; Peter Brooks, nephew; Connie Brooks, sister-in-law; Lyle Brooks, nephew; Eugene Brooks; Neal Brooks, nephew; Edith Ginsberg, stepmother; Louis Ginsberg, Paterson, New Jersey, May 3, 1970,' by Richard Avedon
ADDRESS
522 West 21st Street
New York
NY 10011