Perrier-Jouët: Brand history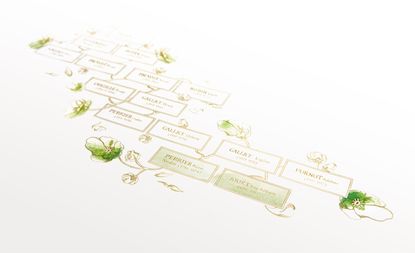 (Image credit: TBC)
Perrier-Jouët began life as a humble Epernay-based cork-supplier, started by Pierre-Nicolas Perrier and his wife Adèle Jouët in 1811.

Purchasing the premises in which Perrier-Jouët is made to this day, the house was at the forefront of innovation and quality. Using fruit from the Avize and Cramant vineyards in France's Champagne region - vineyards which still produce superlative grapes nearly 200 years later - the French house was the first to recognise the virtues that fine chardonnay grapes bring to the assemblage and it soon began to export. In 1815, the Epernay house's first shipments went to Great Britain, and in 1837, straw-filled baskets carrying a cargo of 2,000 bottles of Perrier-Jouët arrived in New York, a delivery that was pivotal in extending champagne's popularity from France to the far corners of the world.

When Pierre Nicolas died in 1854, the house was passed to his son Charles Perrier, another visionary innovator. Charles had no children so, in 1874, he passed on the firm to his nephew Henri Gallice. Much like his predecessors, the young Gallice had met painters, sculptors and creative types who were playing key roles in the new wave of decorative arts sweeping the western world.

Gallice was keen to continue the house's philosophy, perpetuating an appreciation of fine art and spent a great deal of time trying to improve the house's packaging and label design. In 1902, he commissioned Émile Gallé to design a new bottle. But the evocative edition, decorated with Gallé's design was, initially at least, underappreciated and ended up being stored in one of Perrier-Jouët cellars until 1964 when four examples were discovered. These were considered so beautiful that the house resolved to fill them with an equally fine champagne. Satisfied that the quality of both bottle and bubbles were now perfectly matched, the Belle Époque prestige cuvée was re-released a few years later to celebrate the 70th birthday of American jazz legend Duke Ellington at the Alcazar restaurant in Paris.

Depicted at the height of their freshness and vitality, the Japanese white anemones became representative of a brand that used an emerging field of artistic expression to symbolise a champagne with a unique consistency.
www.perrier-jouet.com (opens in new tab)
Perrier-Jouët Facebook (opens in new tab)
Perrier-Jouët Twitter (opens in new tab)