'Outside The Box: Cardboard Design Now' book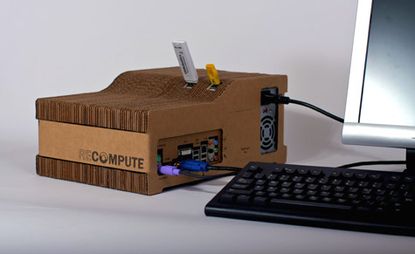 (Image credit: press)
The opening description 'it is a material of endless possibilities', pretty much sums up the ethos of this thought-provoking book by Michael Czerwinski and Santiago Perez. Paying homage to this cheap, familiar, recyclable and readily-available material that anyone and everyone can use, 'Outside the Box: Cardboard Design Now', is a compendium of the innovative usage of cardboard, both practically and whimsically.
See more of the designs featured in 'Outside The Box'
Sustainable development is a big preoccupation in design at the moment, and for this the book succinctly provides some heavy-duty inspiration.
Czerwinski and Perez have profiled work at the forefront of this scene, from Shigeru Ban's 'Japan Pavilion', Amsterdam-based commercial creative agency Nothing's completely cardboard office, to the monumental elevated public cardboard farm installation by Work Architecture Company at New York's P.S.1 Contemporary Art Center.
Leaving no box unopened, the charting of cardboard's uses from historical through to modern sits alongside lighter construction triumphs such as playhouses, DIY cardboard toys and flexible furniture for 'young and mobile urbanites'.