On the grid: new Athens show unites the work of three Greek artists
Plexus, a new show at Athen's House of Cyprus, unites the work of three Greek artists who use grids in their work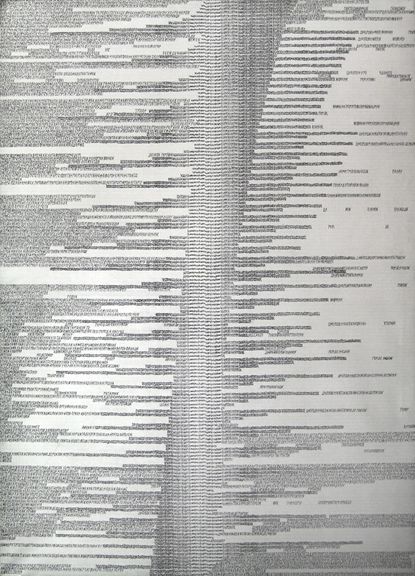 (Image credit: Bia Davou)
Currently on show at the Cypriot Embassy's House of Cyprus gallery space in Athens, a new show called 'Plexus' gathers the works of three Greek artists who span three generations but are united by their exploration of the grid structure.

The exhibition's curators, Tina Pandi and Stamatis Schizakis, explain, 'In the artistic practices of Bia Davou, Petros Moris and Efi Spyrou, the grid becomes the vehicle for investigating the language of mathematics and technology of their era as well as of a constant critical review of the relations between physical and digital object, material and immaterial production, manual and intellectual labour.'

Created between 1969 and 1996 when information technology was in its infancy, Bia Davou's wool and ink on canvas works are the oldest pieces on show. The legendary Greek artist's complex compositions, including works from the series Plegmata (1967–1970), Circuits (1973–1975) and Serial Structures (1978–1996), explore the language of mathematics and computer science – in particular the binary system and the Fibonacci sequence.

Taking the theme into the present day, where digital technology invades every aspect of our lives, Efi Spyrou weaves spent fluorescent lamps together with bright yellow, heavy duty straps to create a series of nine graphic, abstract wall hangings called Metamorphoses, 2014; while young artist Petros Moris' Columns (Time, Brain, Transformation, Skeleton) depict wireframes of ancient mosaics recorded in plaster and a series of systematically arranged gridded cage structures made from steel reinforcing mesh.
INFORMATION
'Plexus' is on view until16 January 2016. For more information, visit the show's Facebook page (opens in new tab)
ADDRESS
House of Cyprus, Cultural and Educational Office of the Cyprus Embassy
2A, Xenofontos Street
105 57, Syntagma Square
Athens
VIEW GOOGLE MAPS (opens in new tab)