Nick Cave's colossal crystal cloudscape at Carriageworks imparts a vital message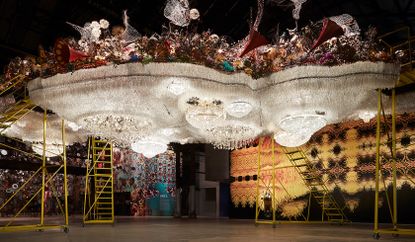 (Image credit: Zan Wimberley)
Dwarfed under a five-tonne crystalline cloud dripping with glowing chandeliers and cascading beads, a sense of magical awe suspends your imagination. Twelve metres long and six metres wide, it forms the centrepiece of American artist Nick Cave's Until, a monumental, multifaceted installation occupying just over 1,700 sq m of Sydney art space Carriageworks. His fantastical landscapes require journeying up steps to menagerie wonderlands, weaving through forests of twirling wind chimes, channeling through a tunnel of kaleidoscopic curtains intricately woven with plastic beads and immersion within kinetic Rorschach patterns.

Yet, upon closer inspection, the rainbow connection is deeply awry. 'The challenge was creating work that is accessible while also amplifying a political overtone. It's ultimately about crime,' states Cave in relation to the work's exploration of entrenched racism, gender politics, gun violence, and the issue of gun control in America. Three and a half years in the making, it was co-produced by MASS MoCA (where it was exhibited in its first incarnation last year), Carriageworks and the Crystal Bridges Museum of American Art (where it will be exhibited in 2020).

Since Cave conceived his colourful Soundsuits over 20 years ago, his agenda has intensified, manifesting itself through sheer scale. He describes the experience of navigating his most ambitious project to date as being inside the belly of one of his Soundsuits, wearable sculptures that were initially created as peaceful and protective armour in protest to police brutality against African-Americans. His intention now is to illicit discomfort and ultimately action. The very term 'until' indicates continuance of an action or condition to a specified time and incites the notion of change coming.
Sinister tones taint components of the exhibition. Stark outlines of revolvers, bullets and teardrops mingle with some 16,000 abstract metallic mobiles twinkling under skylights surrounding the cloud, rupturing the experience of child-like enchantment. 'Their reflections on the cement floor dart about like searchlights,' observes Cave. In an adjoining space, the immersive 14-channel video Hye-Dyve snaps viewers into an agitated state fuelled by preying notions of surveillance and racial profiling against a backdrop of jarring sounds. The site-specific projected floor component of thrashing waves filmed along Sydney's coast amplifies this nauseous momentum of entrapment.

Four ladders grant access to the garden landscape above the celestial Crystal Cloudscape where a bricolage of salvaged Americana including glass fruits, metal flowers and ceramic animals adorn swathes of crocheted and beaded blankets. Blemishing this cornucopia are black-faced 'ornamental' lawn jockeys with golliwog-like forced grins. With the addition of Cave's beaded dream catches in their hands, they grasp for a better life.
'There is an optimism in the work,' insists Cave. Entering another warehouse chamber, a giant rustling waterwall comprising strips of blue Mylar spelling 'FLOW' acts like a purification agent to cleanse people's actions. Beaded nets woven from plastic hair pony beads on shoelaces suspended from the double-height walls spill onto the floor like camouflage nets in war zones. Originally displayed in clusters of undulating outcrops, here they hang flush, allowing visitors to walk between the web-like curtains. Their abstract patterns recall urban graffiti, whilst one wall spells out 'POWER,' inciting activism to change.

'I view this work as a theatre set, or an elaborate community forum, as much as a work of sculpture,' says Cave regarding its rich civic context. Ten local artists and collectives including Romance Was Born fashion designers Luke Sales and Anna Plunkett, singer/songwriter Ngaiire and visual artist Bhenji Ra will create responses to the work over the exhibition period in the form of performances and musical events in addition to panel discussions and community forums within the space. Cave hopes some innovations will take on their own life after the exhibition.

'I'm a messenger first, artist second,' insists Cave, who incorporated a window frame with broken glass from MASS MoCA in the exhibition. The impression was caused by a red-tailed hawk (believed by some as an agent of the divine) smashing through it during the installation period and occupying the space for several days. 'Most would assume it's a large bullet hole, but I see it as a hopeful, prophetic sign,' adds Cave.
INFORMATION
'Nick Cave: Until' is on view until 3 March 2019. For more information, visit the Carriageworks website (opens in new tab)
ADDRESS
Carriageworks
245 Wilson Street
Eveleigh NSW 2015
VIEW GOOGLE MAPS (opens in new tab)