Nendo turns MC Escher's optical illusions into reality in immersive exhibition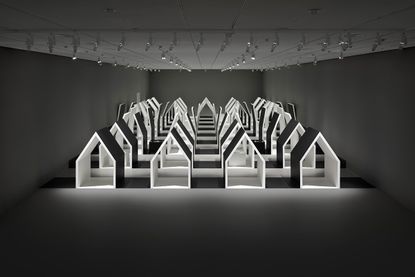 (Image credit: Takumi Ota)
Maurits Cornelis Escher – better known as MC Escher – was a graphic artist, born in Holland in 1898. In his lifetime, his work in woodcuts, lithographs and mezzotints, inspired by tessellation and geometry in nature and objects, went mostly unnoticed by the galleries and museums. The artist was already in his seventies when the first major exhibition of his work was held. Yet among the people – particularly, scientists, mathematicians, and designers – Escher has always been considered a genius.

Escher was known for his 'playful visual paradoxes', says Cathy Leahy, senior curator at the National Gallery of Victoria, where a experiential exhibition on the artist has just opened. The show's radical pathway deconstructs the form of a house to its most minimal parts, with sweeping circular motion, kinetic elements and distorting effects that befit the master of optical illusions and propel his work into posterity.

It was planned by Nendo, the Japanese design studio headed up by Oki Sato, who conceived a posthumous collaboration with his team, rather than to simply create a stage for Escher's work. Special installations respond to the ideas in the works themselves and create a bountiful dialogue between the living and dead, digital and analogue, two and three dimensions (or more). Nendo makes you stop and stare – works appear to move of their own accord, float or disappear.
The artist was obsessed with 'repeated patterns that work into infinity', Leahy explains, and Nendo's design interprets these ideas into the architectural structures on show, creating an Escher world of interlocking patterns and elaborate eye puzzles.

Among the significant works on show is the last piece Escher completed in 1969, three years before he passed away. It is in many ways emblematic of his life's work: Snakes, a large woodcut printed using three blocks and employing nine print operations, puts your head into a spin just thinking about the equation of its making. The symmetrical patterns that intertwine with the snakes seem to collapse into infinity in the centre, sucking us in with it.

For a younger generation who might not be familiar with Escher's drawings that once hung in classrooms everywhere, their relevance to today and his legacy is made emphatically clear by Nendo. This is not a conventional survey show, but a compelling transformation of an artist's lifework into a kind of intellectual theme park.

'Escher's main theme is about trying to find something between the impossible and possible,' Sato says, 'which is very important as a designer as well, it's about trying to make the impossible possible. That is the true value of design.'
INFORMATION
'Escher X nendo: Between Two Worlds' is on view until 7 April 2019. For more information, visit the Nendo website (opens in new tab) and the National Gallery of Victoria website (opens in new tab)
ADDRESS
National Gallery of Victoria
180 St Kilda Road
Melbourne
VIEW GOOGLE MAPS (opens in new tab)
Charlotte Jansen is a journalist and the author of two books on photography, Girl on Girl (2017) and Photography Now (2021). She is commissioning editor at Elephant magazine and has written on contemporary art and culture for The Guardian, the Financial Times, ELLE, the British Journal of Photography, Frieze and Artsy. Jansen is also presenter of Dior Talks podcast series, The Female Gaze.