Technicolor thrill: Tibor Reich's bold textile revival at The Whitworth
The Whitworth Gallery draws from post-war textile designer Tibor Reich's colourful archive for a new retrospective in Manchester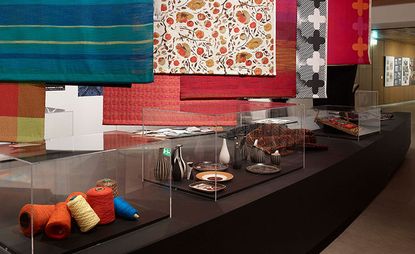 (Image credit: Tibor Reich)
We imagine post-war Britain in black-and-white; all pea-soupers and dust still settling after the Blitz in the Capital and everywhere else a provincial smudge and belching smoke. The British home, what you could see of it though the Player's cigarette smoke, was shades of brown.

In 1954 the nation rediscovered primaries. The exhibition 'An Adventure with Colour', toured the country and 250,000 people took the trouble to see it. The exhibition showcased the bold, colourful, highly textured and defiantly modernist textile designs of Tibor Reich.

Reich, a Jewish émigré from Budapest who had studied architecture and textiles in Vienna, had actually been in Britain since 1937. He set up his own textile company in 1946 and immediately set about modernising not just textile design but production; using new materials but also manipulating photographs of patterns and forms in nature to create designs.

A new show at The Whitworth in Manchester, celebrating the centenary of his birth, makes clear how much Reich's designs – installed in Royal Palaces, Embassies, 10 Downing Street and the interior of the first Concorde as well being used in venues for The Festival of Britain – were enlisted into the effort to create a new national identity. Every forward thinking furniture designer and maker of the era, including Ernest Race, Robin Day, G Plan and Ercol, used his fabrics. He even designed a range of ceramics, mass-produced by Denby.

The show draws on a vast archive of designs and sketches (as well as Reich's vast collection of stamps and the largest model car collection in Europe). Later this year Tibor's grandson, Sam Reich, will relaunch the Tibor Reich textile company, reproducing his grandfather's designs as well as commissioning young designers.
INFORMATION
Tibor Reich's textiles are on view until August. For more information, visit The Whitworth Gallery website
ADDRESS
The Whitworth
The University of Manchester
Oxford Road
Manchester