Milanese gallery HangarBicocca's ambitious new exhibition programme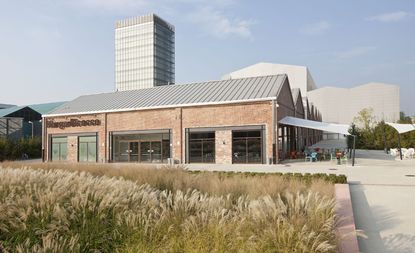 (Image credit: Courtesy of Fondazione HangarBicocca. Photography: Agostino Osio)
Milan's largest contemporary art space got punched with a high-powered plan this week when Vicente Todolí announced his three-year roll-out as HangarBicocca (opens in new tab)'s new artistic advisor. With a 25-year career in the visual arts, most recently as director of London's Tate Modern (opens in new tab) from 2003 to 2010, Todolí brings major talent and experience to the Hangar, which opened in 2004 and has since simmered on the city's edge. Todoli was snagged by Marco Tronchetti Provera (opens in new tab), chariman of Fondazione HangerBicocca as well as Pirelli (opens in new tab), which currently underwrites the foundation's activity.

With a financial commitment of 3 million euros a year plus international exposure from Todolí, the Hangar is now poised to captivate the global contemporary art scene. Todolí's programme includes a mix of international and Italian players in a series of solo retrospectives specially curated for the Hangar, a 15,000 sq m industrial complex from the 1920s that features crumbling cement walls and soaring ceilings.

It starts 19 September with a music and video installation by Ragnar Kjartansson (opens in new tab) called 'The Visitors', followed by a Dieter Roth (opens in new tab) retrospective; installations by Micol Assaël (opens in new tab); a solo exhibit by Cildo Meireles (opens in new tab); an anthological exhibition by Pedro Paiva and João Maria Gusmão; the first Italian retrospective of works by Joan Jonas; a solo exhibition by Céline Condorelli; an exhibition of works by Juan Muñoz and, in 2015, a show with Berlin-based Mexican artist Damian Ortega.

The Hangar has already got off to a fresh start with Mike Kelly (opens in new tab)'s 'Eternity is a Long Time', a retrospective of the late American artist's sculptures, installations and videos, currently on view through 8 September.

We spoke to Todolí about why he took the job and what he has in store for HangarBicocca...
Wallpaper*: Tell us why you've decided to no longer work for museums?
Vicente Todolí: Because I started two museums from scratch [Valencia's IVAM (opens in new tab) in the mid 1980s and Museu Serralves (opens in new tab) in Porto, in 1996]. And the amount of energy and work it takes is incredible. I spent 18 years building the collections single-handedly, doing the product, the space, the exhibitions, the program. Then at the Tate, I had to do all the fundraising, socialising and all the things that take you away from the art. At one point I said to myself, 'Where is the art?'

So what is different about working with Hangar Bicocca?
When they approached me I said 'Great, but only if you guarantee that I will only deal with the art and you will execute it.' Then I'm fine, because that's what I love to do. I love to play the game, be in the pitch, playing. With the ball. The ball is the art.

What was your strategy in building a three-year programme here?
It was first to understand the nature of the architecture here and then set up some rules of engagement. The first: to separate the inside from the [permanent installation by Anselm] Keifer. Then, to create a central space for a single artist and a shared space for younger artists. Finally: no architecture inside. No rooms. No white space.

Why no white space?
There are already so many white spaces in the world. How many spaces do you have that look like this [Hangar]? None. So let's give the uniqueness and personality with art so that it becomes something unrepeatable. That can only happen here.

Tell us a bit about your process in selecting artists.
They were determined by the architecture. They were artists I knew could work here because of the nature of their work. Scale is very important - [the work] can be small but must have power. Paintings and photography are impossible here because you would have to make it like an art fair and build a bunch of booths. So it's for sculpture and performance videos, installations. It's art inhabiting the space, not using it.

Any particular reason you chose to start with Ragnar Kjartansson?
We were supposed to start with Dieter Roth, but it was going to take so long to install there would've been two months of silence after opening, which I didn't like. By chance I went to Zurich and saw 'The Visitors' and I thought, 'Wow. This is perfect.'

Tell us about the Mike Kelley exhibit on now. Were you involved with that?
It was the idea of [curator] Andrea Lissoni, and I thought it was just perfect. It's been a baptism of fire for our staff. Up until now there weren't really big exhibitions here. There was always a single work here and there. Now we're ready.
ADDRESS
Hangar Bicocca Foundation
Via Chiese 2
20126 Milan
VIEW GOOGLE MAPS (opens in new tab)